The Daily Trust, Abuja, 11 June 2009
Man gets 15 strokes for trespass
By Hussein Yahaya and Ibraheem A. Fatai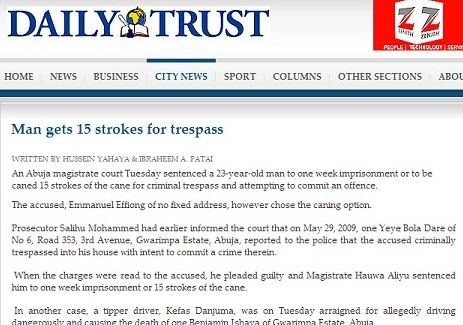 Click to enlarge
An Abuja magistrate court Tuesday sentenced a 23-year-old man to one week imprisonment or to be caned 15 strokes of the cane for criminal trespass and attempting to commit an offence.
The accused, Emmanuel Effiong of no fixed address, however chose the caning option.
Prosecutor Salihu Mohammed had earlier informed the court that on May 29, 2009, one Yeye Bola Dare of No 6, Road 353, 3rd Avenue, Gwarimpa Estate, Abuja, reported to the police that the accused criminally trespassed into his house with intent to commit a crime therein.
When the charges were read to the accused, he pleaded guilty and Magistrate Hauwa Aliyu sentenced him to one week imprisonment or 15 strokes of the cane.
Copyright (c) 1998 - 2009. Daily Trust - The online edition
---
---
The Daily Trust, Abuja, 23 June 2009
Man flogged for stealing eggs
By Hussein Yahaya and Ibraheem A. Fatai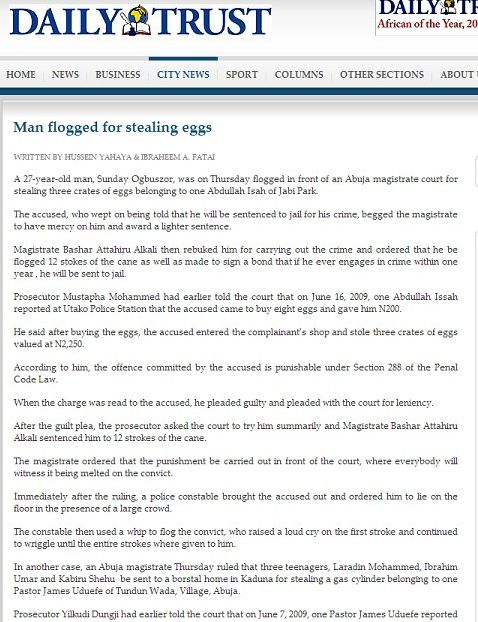 Click to enlarge
A 27-year-old man, Sunday Ogbuszor, was on Thursday flogged in front of an Abuja magistrate court for stealing three crates of eggs belonging to one Abdullah Isah of Jabi Park.
The accused, who wept on being told that he will be sentenced to jail for his crime, begged the magistrate to have mercy on him and award a lighter sentence.
Magistrate Bashar Attahiru Alkali then rebuked him for carrying out the crime and ordered that he be flogged 12 strokes of the cane as well as made to sign a bond that if he ever engages in crime within one year, he will be sent to jail.
Prosecutor Mustapha Mohammed had earlier told the court that on June 16, 2009, one Abdullah Issah reported at Utako Police Station that the accused came to buy eight eggs and gave him N200.
He said after buying the eggs, the accused entered the complainant's shop and stole three crates of eggs valued at N2,250.
According to him, the offence committed by the accused is punishable under Section 288 of the Penal Code Law.
When the charge was read to the accused, he pleaded guilty and pleaded with the court for leniency.
After the guilt plea, the prosecutor asked the court to try him summarily and Magistrate Bashar Attahiru Alkali sentenced him to 12 strokes of the cane.
The magistrate ordered that the punishment be carried out in front of the court, where everybody will witness it being melted on the convict.
Immediately after the ruling, a police constable brought the accused out and ordered him to lie on the floor in the presence of a large crowd.
The constable then used a whip to flog the convict, who raised a loud cry on the first stroke and continued to wriggle until the entire strokes where given to him.
Copyright (c) 1998 - 2009. Daily Trust