Johor Buzz, Johor Baru (New Straits Times web only), 1 January 2009
Punished for not doing homework
HE was slapped twice and caned five times. This was the punishment student Mohd Roziman Roppie, 14, received for failing to complete his homework, according to his parents.
ANGRY: Narini Ya showing pictures of her son's wounds inflicted by his teacher.
The punishment was too harsh, judging from the bruises on the cheeks and buttocks, they said.

The boy's parents lodged a police report against the teacher.

Mohd Roziman was caned and slapped by his school's disciplinary teacher, for not completing his Bahasa Malaysia homework, at 12.45pm on April 14.

When he groaned in pain after returning to his home at Sri Impian Larkin in Johor Baru, it caught the attention of his mother Narini Ya, 41.

The boy showed the bruises on the buttocks and cheeks, and told her he was punished by his disciplinary teacher for not completing his homework.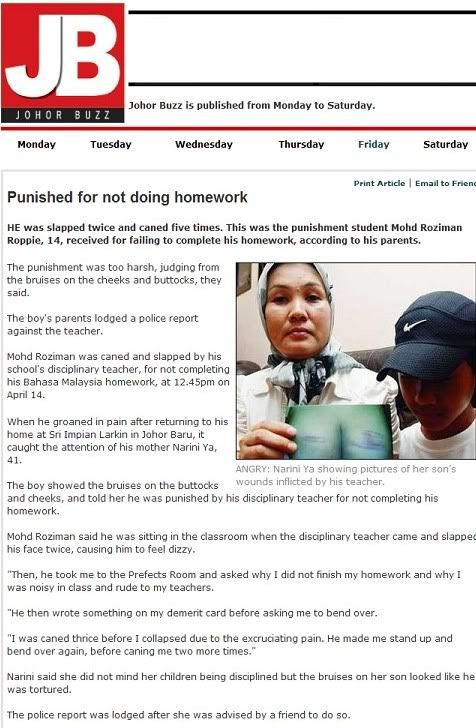 Click to enlarge
Mohd Roziman said he was sitting in the classroom when the disciplinary teacher came and slapped his face twice, causing him to feel dizzy.

"Then, he took me to the Prefects Room and asked why I did not finish my homework and why I was noisy in class and rude to my teachers.

"He then wrote something on my demerit card before asking me to bend over.

"I was caned thrice before I collapsed due to the excruciating pain. He made me stand up and bend over again, before caning me two more times."

Narini said she did not mind her children being disciplined but the bruises on her son looked like he was tortured.

The police report was lodged after she was advised by a friend to do so.
Copyright © 2007 NST Online. All rights reserved
Country files: Malaysian school CP
Other external links: school CP