New Straits Times, Kuala Lumpur, 19 November 2007
School punishment
Bring back public caning
By Mohd Faizal Abdullah
Kuala Lumpur
THE Education Ministry is contemplating doing away with the suspension and expulsion from school as punishment for problematic students ("Move to do away with suspension, expulsion" -- NST, Nov 14). I agree with the proposal as such punishment does not work. But I am not entirely in favour of the proposal to abolish expulsion.

Expulsion should be maintained and exercised as a last resort after rehabilitation and counselling fails and all other avenues to discipline them have been exhausted.

Between 2003 and May this year, about 21,000 students had been expelled from schools nationwide.

About 70 per cent of expulsions were the students expelled was for truancy ("Ministry explores alternatives to expulsion of students" -- NST, Oct 24).

Expulsion of students playing truant should be stopped. Instead, they should only be given a strict verbal or written warnings.

But expulsion should be imposed on students who are involved in extortion, fighting and bullying students because these are elements of gangsterism.

Expulsion should also apply to those caught gambling in school, smoking and taking drugs. Of course, this is after rehabilitation, counselling and warnings.

Since the ministry is looking hard for alternatives to expulsion to instil discipline among problematic students, why not re-introduce public caning in schools?

Public caning was abolished years ago by the ministry.

My wife's niece, who is a teacher, told me that if a cane is to be used on a problematic student, it can only be done behind closed doors in the principal's room. Today, teachers are afraid of their students because they fear that if they lift a finger against their students to discipline them, the students' parents will take legal action against them and the school.

At the school where I studied, during my secondary school days in the 1970s, it was the other way round: we feared the teachers most.

Back then, students who were caught vandalising school property or defacing the school's walls were caned during assembly.

To instil discipline among problematic students, I think it is wise that public caning be brought back to schools.
© Copyright 2007 The New Straits Times Press (M) Berhad. All rights reserved.
---
---
International Herald Tribune, Paris, 28 November 2007
Malaysian schoolgirls could face caning, amid calls for more classroom discipline
The Associated Press
KUALA LUMPUR, Malaysia: Teachers in Malaysia would be allowed to whip girls as well as boys, under a proposal the government is considering to boost classroom discipline, a senior official said Wednesday.
The government already permits boys to be whipped with a rattan cane in schools for serious offenses such as smoking, vandalism and harming others.
Deputy Education Minister Noh Omar said school heads, representatives of parent-teacher associations and religious groups at an education seminar earlier this week called for harsher punishment, including caning, for girls.
"Girls also cause serious problems. It is just a proposal. We are studying it," he told The Associated Press.
Lok Yim Pheng, secretary-general of the National Union of the Teaching Profession, who attended the seminar, said corporal punishment was needed to rein in unruly girls.
"Sometimes the girls are even more daring than the boys," she told the AP. "It's high time to put these girls in order by caning them."
However, Lok said girls should be caned only by a female teacher and only on the hands and legs.
Critics say caning for girls would be too harsh. Criminologist P. Sundramoorthy was quoted by The Star newspaper as saying that caning is brutal and may not act as a deterrent.
Elisa Tan Lee Yan, a 16-year-old student, told the newspaper that girls would not be able to withstand the caning.
"If you want to punish us, make us wash the toilets instead. That's already punishment in itself," she said.
Copyright © 2008 the International Herald Tribune All rights reserved
---

New Straits Times, Kuala Lumpur, 28 November 2007
Strong support for caning
National Union of the Teaching Profession secretary-general Loke Yim Pheng (left) and National Parent-Teacher Association chairman associate professor Mohd Ali Hassan.
KUALA LUMPUR: Teachers and parents have come out in support of the suggestion to cane schoolgirls.
National Union of the Teaching Profession secretary-general Loke Yim Pheng said this was because schoolgirls were becoming as bold, if not, bolder than boys.
"They also have gang fights and get involved in bullying. It doesn't matter if they are from single-ed or co-ed schools,

"Girls with hard core disciplinary problems should be given the hard approach if the soft approach does not work with them any more," she said.

However, she said, the caning should only be carried out by female teachers and the only parts to be caned should be the palms or the calves.
She said it should also be carried out behind closed doors, something that the NUTP advocates for schoolboys as well.

National Parent-Teacher Association chairman associate professor Mohd Ali Hassan feels that caning of schoolgirls should be the last resort.

"I don't see any reason why schoolgirls should not be caned but it should be done in accordance with proper guidelines," he said.

He too stressed that the punishment should be meted out by a female teacher behind closed doors.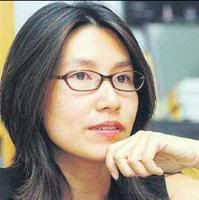 Protect And Save The Children Association director Madeline Yong.
Ravindran Raman Kutty, 42, a public relations officer, said the adage "spare the rod and spoil the child" should also be applied to girls.

"The environment today has changed as parents are too busy to pay attention to their children," said the father of two teenage girls.
Protect And Save The Children Association director Madeline Yong does not share the same sentiment and stressed that there was no correlation between caning and social ills among schoolgirls.

She felt that corporal punishment would not lead to a decrease in anti-social behaviour but might cause them to become more aggressive.
Copyright © 2007 NST Online. All rights reserved.
---

New Straits Times, Kuala Lumpur, 28 November 2007
'Stop naughty schoolgirls with the cane'
By Regina Lee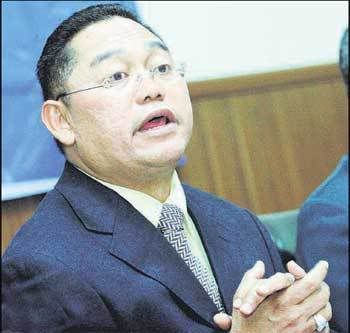 Deputy Education Minister Noh Omar says 500 participants were agreeable to the proposal.
KAJANG: Bring out the cane even if they are girls.
This is the recommendation from a seminar which discussed discipline in schools and the increasing indiscipline among girls.

The three-day National Seminar on Education Rules (Students' Discipline) which ended yesterday suggested the unwritten rule that schoolgirls should not be caned be revoked.

Currently headmasters are only permitted to cane boys for indiscipline.

"This is because there are more girls in schools and some of them are becoming very problematic. Discipline problems are not confined to boys any more," said Deputy Education Minister Datuk Noh Omar who closed the seminar.
He said the ministry had been considering whether to implement it even before the seminar, but decided to get more feedback since it was an "explosive subject".

He said caning was the only form of sanctioned corporal punishment. It can only be meted out by headmasters and disciplinary teachers and is currently applied only to boys.

"With this resolution being passed, we have received the mandate of the 500 participants who represent all levels of Malaysians.

"Discipline problems in schools know no race, religion or rank. If caning for girls is approved, my own daughter will not be spared as well."

Another resolution passed urged further enforcement of the ban on handphone usage in schools.

The ministry banned them early last year to the uproar of parents. Even then, certain schools were lax in its enforcement and have their own set of guidelines regarding its usage.

A total of 21 resolutions and recommendations were passed. The resolutions will be handed over to the ministry's technical committee and the Attorney-General's Chambers, before seeking the final approval from the cabinet.

If all goes well, they could be implemented as early as next year. Seminar participants included government and opposition politicians, academicians, teachers, NGO representatives, parent-teacher associations and representatives from the police.
Copyright © 2007 NST Online. All rights reserved.
---
---
The Star, Kuala Lumpur, 29 November 2007
Letters
Girls should be caned too but do it right
I COULD not agree more with the report "Education seminar passes resolution to cane female students" (The Star, Nov 28).
I recall the infamous Miri video clip, where other female students bullied a female student.
And I recall as well the incident at SMK Bawang Assan where female students were forced to squat in a pond, and also similar incidents at SK Infant Jesus Convent last year.
For the former, it was an issue of discipline of girls getting worse and worse by the day. For the latter, it was an issue where teachers felt powerless to discipline students that forced them to resort to inappropriate punishment methods, leading to even worse humiliation and harm to the female students.
I believe caning of female students is justified and appropriate when used correctly.
However, caning should only be used as a last resort, especially in secondary schools. While many think that female students will not be able to withstand the punishment, those who commit grave offences like bullying their counterparts must certainly be tough enough to withstand a few strokes of the cane.
As former students of a Chinese primary school, my friends and I, both boys and girls, have been caned in front of our classes for forgetting to bring books, not doing our homework, etc.
While I do not condone caning for such petty matters, I feel that it is a big exaggeration to claim that female students who are caned will be scarred psychologically for life.
Most of my friends and I, in as much as we do not like being caned, feel grateful that our teachers corrected us over problems like laziness and misbehaviour.
I agree that caning should be implemented in schools for female students. It should be carried out by female teachers, on either the palm, buttocks or legs, and if it is carried out by a male teacher, a female witness, be it a teacher or a student, should be present, and the caning properly documented.
LAU LEE SZE,
Kuching, Sarawak.
© 1995-2005 Star Publications (Malaysia) Bhd (Co No 10894-D)