New Sunday Times, Kuala Lumpur, 29 July 2007
Spot Light
Seeking solutions to a punishing task
By Patrick Sennyah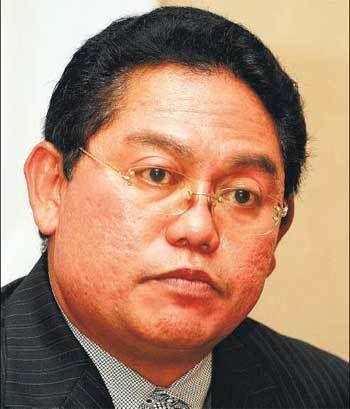 Datuk Noh Omar says a national Seminar on Student Discipline involving parent-teacher associations, teachers, academicians and ministry officials will be held soon
Teachers have been in the limelight recently because of the drastic punishment meted out to students, despite strict guidelines on punishment. PATRICK SENNYAH gets a clearer picture on disciplinary teachers and punishment from Deputy Education Minister Datuk Noh Omar, who oversees disciplinary issues

Q: What are the guidelines on punishing students, especially caning?

A: What can and cannot be done are clearly stated in the Disciplinary Guidelines for Headmasters and Teachers 1988.

Teachers cannot interpret these guidelines as they like or change them.
There are six forms of punishments set out in the guidelines — a warning; suspension; expulsion; caning (for male students); detention; or community service like cleaning the school.

As for caning, only the headmaster can do it. Even the discipline teacher does not have the power to cane.

Female students cannot be caned at all, not by a male teacher or even a female teacher.

A teacher can only cane (a male student) when the headmaster delegates this power to him in writing. And this teacher must be a permanent teacher of the school, not a temporary or replacement teacher. And there are strict guidelines for caning.

The student can only be caned on the buttocks or the palm. It cannot be done on bare buttocks and the student cannot be asked to lower his pants.

Q: What changes do you see in the Amendments to Discipline Regulations (Students) 1959?

A: We will organise a national Seminar on Student Discipline soon involving parent-teacher associations, teachers, academicians and ministry officials.

The seminar is to get input to come up with a holistic and effective way to overcome problems of indiscipline.

We will discuss the kinds of punishment which should be meted out, including allowing female students to be caned.

Based on the feedback received, we will make the necessary amendments and maybe even add new regulations to suit the present education scene.

Q: How are disciplinary teachers selected? Is there any criteria and is there any training?

A: Any teacher can be appointed as a disciplinary teacher by the headmaster or principal if he feels the teacher is suitable.

The only criteria the headmaster looks for is that the teacher has a high level of commitment, dedication and has a good service record.

As for training, there is no specific training curriculum though the ministry organises training courses from time to time.

Headmasters and principals are given the discretion to select their discipline teachers and these teachers are usually those who possess leadership qualities and can take charge of disciplinary matters in the school.

There is a proposal that schools reduce the workload for disciplinary teachers to concentrate on disciplinary matters.

Schools must be selective and choose a disciplinary teacher who can also be a good friend and counsellor to the students.

Disciplinary teachers should not be someone students fear, but a person they can easily approach.

Q: Are cases of teachers abusing their power rampant in Malaysia?

A: What power? Teachers do not have any kind of power. Their job is to educate. This is what they are taught in teacher training, to be an effective educator.

Their job is to teach students according to the ministry's procedures and guidelines, that's all.

They have no power to punish. They (simply) cannot punish or insult students in any way.

Q: Is there any counselling available to teachers who are stressed or face other work-related problems?

A: We have counsellors at state district education offices for teachers and education staff who face any problems.

If there is a need, these teachers and education staff will be referred for further counselling or given any assistance they may need.

Being a teacher is not an easy job and it comes with all kinds of stress. The ministry is aware of this and has prepared all the necessary avenues needed for teachers to work as effectively as possible.

Q: Do you think teachers sometimes vent their anger and frustration on students?

A: This is difficult to say. But from my own experience, teachers are mostly dedicated and have demonstrated a good level of professionalism.

The only problem we have encountered is that some are at times just too eager to institute discipline and this sometimes gets out of hand.

We must understand that teachers are only human and they have their share of worries and burdens, at home and at work.

Sometimes, parents expect too much from teachers. Teachers are there to teach, while it is the duty of the parents to look into the other needs of their children.

At times, parents expect teachers to be everything. This is impossible. Teachers have hundreds of students to handle. They cannot give individual attention to anyone.

Just like you and me, they have emotions and at times this may upset them in some way. So long as the teachers act within their scope of work, the ministry will back them.

Q: Are there any specific requirements before a person can become a teacher?

A: No. Anyone with the right academic qualifications can apply to become a teacher.

These applicants should know if they have what it takes to handle and understand children.
Copyright © 2007 NST Online. All rights reserved.
---
---
The Star, Kuala Lumpur, 31 July 2007
Back disciplinary action, PTAs urged
By Hamdan Raja Abdullah
TANGKAK: Parent Teacher Associations (PTAs) have been urged to support any disciplinary action imposed by teachers on students in schools to control unruly characters.
Ledang MP Hamim Samuri said PTA members should not criticise disciplinary teachers who slapped or caned students.
Speaking at the opening of the SMK Tengku Mahmud Iskandar PTA's annual general meeting here, he said teachers had the responsibility of not only teaching the students, but also to develop their character.
"It seems today that parents are so over-protective of their children that they can't even be scolded or punished in schools," he said in Sungai Mati last week.
Hamim said if parents were over-protective and did not support disciplinary action taken against them, no teachers would want to discipline them.
When that happened, he said, unruly children would not only become worse but also create problems in schools and the PTAs would then accuse the schools of failing to instil good values in students.
He said teachers were among the most important people in society and should always be respected and protected, not condemned and criticised for trying to instil discipline.
"I feel sad when parents protest against teachers for doing something they themselves do not do, develop good values in their children.
"If they did, the children would not misbehave or disobey their teachers or school rules," he added.
© 1995-2005 Star Publications (Malaysia) Bhd (Co No 10894-D)
Country files: Malaysian school CP
Other external links: school CP