The Star, Kuala Lumpur, 11 May 2007
Grateful for being caned?
OLD boys of SMK Bukit Bintang, Kuala Lumpur, vividly remember the school's first headmaster Dr A.L. McGregor's favourite line: "Fetch the cane and touch your toes."
Despite all the caning they got, the old boys have fond memories of their old headmaster who, they said, had made them more disciplined today – four decades later.
McGregor and about 100 of the school's old boys got together recently at the school's speech day.
"We are grateful that he caned us and helped us grow to be better people," said S.M. Rajah, a former student and prefect of the school.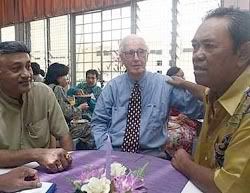 Reminiscing: McGregor (centre) listening attentively as his former students Mahmud (right) and Rajah recount stories from their student days.
Rajah, who missed the caning said, "We learned the importance of discipline. My peers and I were always on the alert because we didn't know when he would walk up on us and ask us to bend down and touch your toes."
Another student Mahmud Baba said: "Although we students did not realise it then, the caning made us better people and better parents in bringing up our children."
McGregor, 75, who is of Scottish descent, now lives in Perth.
Speaking at the school's speech day, he said: "Disciplining students and making them realise the importance of education was my main objective. If they grow as disciplined people they will be determined to be successful."
McGregor, who was headmaster from 1958 to 1966, said: "As they feared the cane, the schoolboys then behaved themselves and I used lesser of the cane," said
After his service as headmaster, he taught at the education faculty of Universiti Malaya, and retired as the deputy dean of the faculty in 1976.
During his service in Malaysia, he said that students of all races mixed freely and there was no polarisation in schools.
"Everybody was happy and everyone thought of themselves as Malaysians and not as different races," he added.
© 1995-2005 Star Publications (Malaysia) Bhd (Co No 10894-D)
---
New Straits Times, Kuala Lumpur, 12 May 2007
LearningCurve
Profile: Great Scot
By Suzieana Uda Nagu
(extracts)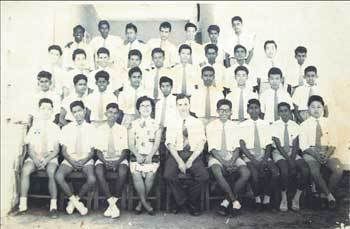 McGregor (seated, fifth from left) in a Form Three class photo taken in 1961
Dr Alistair McGregor — the first principal of Bukit Bintang Boys' School, now known as SMK (Laki-Laki) Bukit Bintang — had served the school from 1958 to 1965. In conjunction with Teachers' Day on Wednesday, SUZIEANA UDA NAGU finds out from the veteran educator the value of discipline, tolerance, service and parental support in educating youngsters in the 21st century.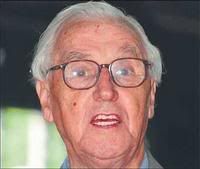 Success must come with a desire to be of service, says McGregor
DR Alistair McGregor, 74, looks and acts every bit as the doting grandfather. So it is hard to picture the former Bukit Bintang Boys' School (BBBS) principal walking the hallways of the school in the 1960s with a cane in his hand and a stern look on his face.

Yet that is how old boys of BBBS — now known as SMK (Laki-Laki) Bukit Bintang — remember McGregor.

At the recent BBBS Speech Day, where McGregor was guest-of-honour, members of the BBBS Old Boys' Association presented the Scotsman with a long, thin and beige cane as a "gift".

McGregor accepted the gesture good-naturedly.
"No, it is not the same one I used back then. That one was worn out," he says, jokingly.

McGregor admits that he used the cane liberally as the principal of BBBS but explains that he did it out of necessity.

"You must understand that back then, the headmaster was the only one allowed to mete out corporal punishment. If teachers wanted any disciplining to be done, they would come to me," says McGregor, who now lives in Perth. His wife Kathleen passed away recently.

Most BBBS old boys, however, would not change anything about their schooling experience at McGregor's helm.

Many thank him for his liberal use of the cane to discipline them. They feel it has helped them shape their attitudes towards studies and life in general (see story on H3).

McGregor was just 26 when he was offered to head BBBS in 1958.

"I think the Chairman of the Board of Governors was on a holiday in Scotland at the time. He came to visit my wife and I, and (invited me to lead the school). We told him that we would be happy to go to Malaya."
[...]
McGregor left BBBS in 1965 to pursue his doctorate in applied linguistics at the Education Faculty in University of Malaya (UM). McGregor spent 10 years in UM and was deputy dean of the faculty for several years.
[...]
Strict in his ways
TAX consultant T Mahindera Kumar was no model student when he was in Bukit Bintang Boys' School some 40 years ago.
"I was not interested in my studies and fooled around a lot," says the former Bukit Bintang Boys' School student.
Needless to say, red markings and disappointing comments from principal Dr Alistair McGregor filled his secondary school report card.

Kumar, who was regularly caned in school for misbehaving, describes McGregor as a man who "spoke little and who would let the cane do the talking".

"If you don't know the answer to a question posed in class, he will ask you to stand up. If you are still not seated at the end of the class, then you'll be caned. If you are caught wandering around the hallway, you'll be caned too," says Kumar, recalling his schooldays.
[...]
Retiree Sonny V. T. Rajah also attributes part of his success in life to McGregor's strict ways.

"He is a fantastic man and a disciplinarian. I believe this was the reason why decorum at BBBS was very good. Students respected the rules and regulations, and parents never argued with his decision to mete out punishments," says Rajah.

He believes that the emphasis on discipline under McGregor's leadership had influenced BBBS students to be good citizens in their adulthood. "Most of us are in non-governmental organisations to help the needy," adds the retired Government servant.
Copyright © 2007 NST Online. All rights reserved.