The Bulletin, Sydney, Australia, 30 January 1979
Drugs
A man under the threat of a caning
By Pat Burgess
IN THE jail at Alor Setar, the capital of Kedah, the second northernmost state of Malaysia, there are five Australians on drug charges.
With young travellers lulled by the apparent indulgence of Penang to the south and Thai centres like Chiangmai to the north there is [sic] likely to be more.
One of the Australians, Robert Alan Symes, 30, a film distributor, of Brisbane, has just lost his last appeal against a life sentence and six strokes of the cane.
All that is left to him now is an appeal for mercy to the local sultan.
For the same offence in Australia Symes might well have been given no more than a fine. Symes' lawyer, an Indian, Karpal Singh, of Kuala Lumpur, told me Symes will serve 18 years, if the Sultan does not intervene.
Robert Symes now looks much younger than 30. His skin is pale and he is thin but he has the look of health-farm fitness. His fingers, in contrast to the pallor of his skin, are roughened by hours of guitar playing. "Not much else to do," he says.
It soon becomes apparent that Symes is just as frightened of what he calls by its Malay name -- rotong [sic], the cane -- as he is of life imprisonment. He has seen on the buttocks of another prisoner in the Alor Setar jail the weals left by the cane years ago.
Other prisoners have explained to him how his feet are secured and his hands tied above his head so that he is bent forward. The cane comes down and draws blood.
"When I was sentenced," he says, "the rotong meant nothing. It does now."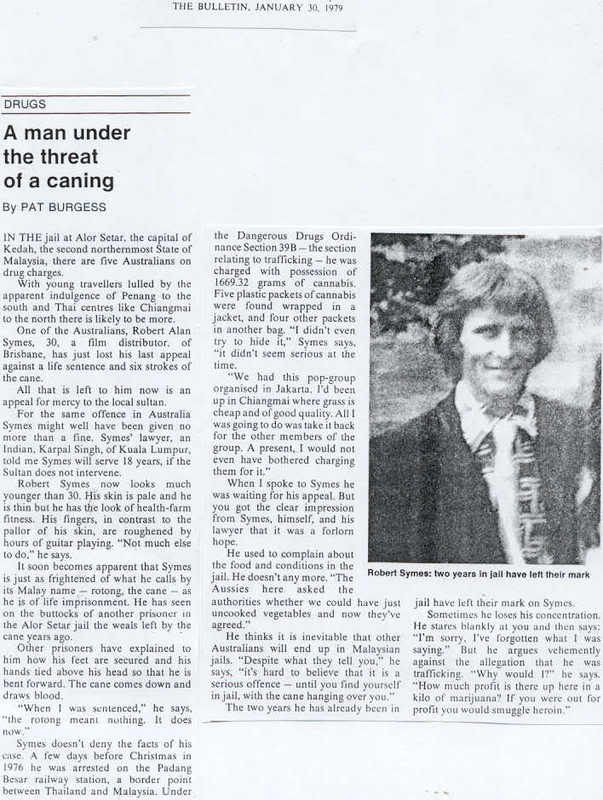 Symes doesn't deny the facts of his case. A few days before Christmas in 1976 he was arrested on the Padang Besar railway station, a border point between Thailand and Malaysia. Under the Dangerous Drugs Ordinance Section 39B -- the section relating to trafficking -- he was charged with possession of 1669.32 grams of cannabis. Five plastic packets of cannabis were found wrapped in a jacket, and four other packets in another bag. "I didn't even try to hide it," Symes says, "it didn't seem serious at the time.
"We had this pop-group organised in Jakarta. I'd been up in Chianmai where grass is cheap and of good quality. All I was going to do was take it back for the other members of the group. A present. I would not even have bothered charging them for it."
When I spoke to Symes he was waiting for his appeal. But you got the clear impression from Symes, himself, and his lawyer that it was forlorn hope.
He used to complain about the food and conditions in the jail. He doesn't any more. "The Aussies here asked the authorities whether we could have just uncooked vegetables and now they've agreed."
He thinks it is inevitable that other Australians will end up in Malaysian jails. "Despite what they tell you," he says, "it's hard to believe that it is a serious offence -- until you find yourself in jail, with the cane hanging over you."
The two years he has already been in jail have left their mark on Symes.
Sometimes he loses his concentration. He stares blankly at you and then says: "I'm sorry, I've forgotten what I was saying." But he argues vehemently against the allegation that he was trafficking. "Why would I?" he says. "How much profit is there up here in a kilo of marijuana? If you were out for profit you would smuggle heroin."
---
Follow-up to this story: Symes' flogging was indeed carried out (in 1982) and in 1988 he published his first-person account of the experience.