New Straits Times, Kuala Lumpur, 23 October 2008
Travel agent gets 17 years' jail for rape, robbery
By Lydia Gomez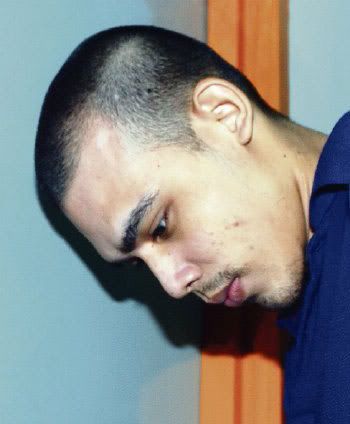 Mohd Fadwan Abd Muaain was also charged with raping and robbing a 16-year-old schoolgirl last year.
KUALA LUMPUR: He waited seven months for the Ampang Sessions Court to sentence him, after he pleaded guilty to raping, robbing and confining a woman in December last year.
Mohd Fadwan Abd Muaain's wait ended yesterday when judge Noradidah Ahmad sentenced him to 13 years' jail and three strokes of rotan for rape, four years' imprisonment for robbery and another six months' jail term for wrongfully confining a guest relations officer.

Fadwan, who was unrepresented, remained silent as Noradidah meted out the sentences, which she ordered to run concurrently from the date of his arrest on Dec 19, last year.

"Although you pleaded guilty and have no past criminal record, what you did was very serious and violent.

"You kicked open the door of the victim's apartment and raped her before robbing her," the judge said, adding that she had to take public interest into consideration.
"At the time of the incident you were 23 years old. You were already mature enough to know what is right from wrong and can take responsibility for your actions."

The 24-year-old travel agent had been charged on Jan 18 with raping and robbing the 35-year-old woman at an apartment in Lembah Maju, Pandan Indah, Ampang, at 11.15am on Dec 15 last year.

Police located Fadwan two days after the incident and arrested him in his house in Damansara Damai, Sungai Buloh.

He was also slapped with two other charges of raping and robbing a 16-year-old schoolgirl on Oct 2 last year.

That offence was committed in the victim's apartment in Pandan Perdana, Ampang.

He pleaded guilty to the charges on March 19 and is expected to be sentenced soon.
Copyright © 2007 NST Online. All rights reserved.
Article: Judicial caning in Malaysia
Topics A to Z: Caning in Malaysia