New Straits Times, Kuala Lumpur, 22 January 2008
5 years' jail for burying own baby alive
Ramlee Basaruddin
He received the maximum punishment of five years' jail and four strokes of the cane from magistrate Norsyahid Malik for his 'cruel' and 'hideous' crime.
JOHOR BARU: A 38-year-old Indonesian was sentenced to five years' jail for burying alive his newborn baby in a jungle.
Describing Ramlee Basaruddin's crime as "cruel" and "hideous", magistrate Nor-syahid Malik handed down the maximum punishment allowed in a magistrate's court for unintentional homicide under Section 304b of the Penal Code.

Ramlee, who was unrepresented, was also sentenced to an additional year in prison for a separate offence of being in the country without valid documents.

He was also punished with four strokes of the cane for the offence under Section 6(1)(c) of the Immigration Act 1963.

Both sentences are to run consecutively from yesterday.
Ramlee had pleaded guilty to unintentionally killing the baby at 1323 JTM 13/2 Lorong Ahmad Yusof, Ulu Tiram, here, at 5.35pm on Jan 8.

It was reported that he had taken the infant from his 20-year-old girlfriend, a local girl, who had given birth about 4am that day.

Ramlee buried the infant alive in a shallow hole behind the house he and his girlfriend shared.

He also pleaded guilty to not having valid travel documents when he was caught at the same date, time and place.

During sentencing, Nor-syahid said the offence of unintentional murder carried a maximum 10 year prison term but that he was only empowered to hand down a maximum five-year sentence.

"I cannot imagine the level of cruelty in the crime you just committed.

"To bury your own child when it is the duty of a father to protect and nurture his offspring.

"Although this court can only hand down a five-year sentence, your crime deserves a punishment befitting its ghastliness and to serve as a lesson to society."
Copyright © 2007 NST Online. All rights reserved.
---
---
New Straits Times, Kuala Lumpur, 26 January 2008
Ex-athlete gets jail, rotan for cannabis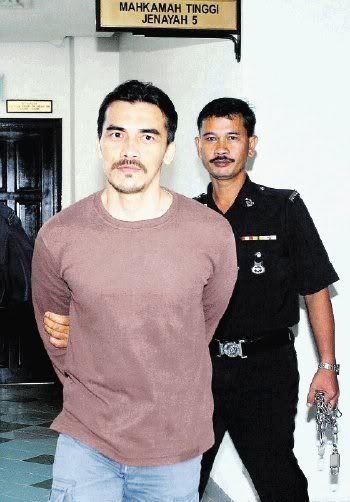 Islahuddin Yub took part in the 1998 Sukma Games.
SHAH ALAM: A participant in the 1998 Malaysian Games (Sukma) was sentenced by the High Court to seven years' jail and 10 strokes of the rotan for possessing 438g of cannabis.
Islahuddin Yub, 37, pleaded guilty to committing the offence at Block 3-G-16, Pangsapuri Sri Indah Intan, Jalan Bukit Permai, Taman Bukit Permai in Ampang at 6.50pm on July 27, 2005.

Judicial commissioner Abang Iskandar Abang Hashim ordered the jail term to run from the date of his arrest.

In mitigation, counsel Imran Hadzalie Abdul Hamid said before his arrest, Islahuddin, a satay seller, earned RM1,600 a month to support his wife, five children aged between seven and 12, his mother and his mother-in-law.

After his arrest, his wife was forced to get a job to support the family.
"The time he spent apart from his family has made him realise his mistake.

"He began doing drugs in 2000 until his arrest and he would like to thank the police for putting him on the right track," said Imran.

Islahuddin, he said, had taken part in silat competition at the Sukma games and won third place.

Islahuddin had initially claimed trial to trafficking in drugs, but pleaded guilty after the prosecution reduced the charge to possession.

Deputy public prosecutor Alfred Egin pressed for a deterrent sentence to reflect the seriousness of the offence.
Copyright © 2007 NST Online. All rights reserved.
---
---
Daily Express, Kota Kinabalu, 29 January 2008
Incest: Farmer gets 12 years, 3 strokes
Keningau: A 37-year-old farmer was sentenced to 12 years' jail and ordered to be given three strokes of the cane by the Sessions Court here Monday for raping his underage stepdaughter two years ago.
The farmer pleaded guilty before Judge Duncan Sikodol to committing the offence between 9pm and 5am in September 2005 in a house in Kampung Kitou, Tambunan. The girl was then 15 years three months old.
Prosecuting Officer Chief Inspector Ramona Albert told the court that the victim's grandmother lodged a police report when the girl gave birth to a baby girl at the Keningau Hospital on April 21, 2006.
She said a deoxyribonucleic acid (DBA) test confirmed the farmer was the father of the baby.
The farmer was charged under Section 376B(1) of the Penal Code, which carries imprisonment of not less than six years and not more than 20 years, and shall also be liable to whipping on conviction.
In another case, a 21-year-old local was jailed eight years and ordered to be whipped three times for raping his 14-year-and-five-month-old cousin at 11.30pm in May 2006 in a house in Kampung Gunting, Tenom.
Ramona told the court that initially the girl refused to give in to the youth's sexual desire but later agreed and from then on they continued their affairs whenever they were left only in the house.
She said in June 2006 the girl missed her period and confronted the youth to own up of making her pregnant. The youth refused and wanted the girl to go for an abortion.
The girl told her mother about the matter and a police report was made on Dec 6, 2006, which led to the arrest of the youth. The girl was sent to the Likas General Hospital for medical check-up which confirmed she was eight months pregnant.
The prosecuting officer said the girl gave birth to a baby boy on Jan 13, 2007 and a DNA test confirmed the accused is the father of the child.
The youth was charged under Section 376 of the Penal Code, punishable with imprisonment for a term of not less than five years and not more than 20 years and also liable to whipping.
Copyright © Daily Express, Sabah, Malaysia
---
---
Bernama National News Agency, Kuala Lumpur, 31 January 2008
Whipping And Jail For RM50 Robbery
KUALA LUMPUR, Jan 31 (Bernama) -- A mere RM50 and two cell phones.

That was all the loot which two Pakistani nationals managed to rob from four compatriots on a night of drunken stupor.

But, what a heavy price construction workers Oringzeid Taliqpres and Sajjad Ahmad Mustaq Ahmad paid for their folly.

This morning, they were stunned by the punishment meted out by the magistrate's court when they were each sentenced to 30 months jail and ordered to be given four strokes of the rotan when they pleaded guilty to four counts of robbery.

Two of their accomplices are still at large.

Magistrate Ahmad Solihin Abdul Wahid ordered Oringzeid, 22, and Sajjad Ahmad, 34, to serve the sentences from the date of their arrest.

Presenting facts of the case, prosecuting officer Chief Inspector Zulkifli Yassim said Oringzeid and Sajjad were drunk when they demanded RM50 from their four victims.

He said the duo were armed with an iron pipe each, when they entered a house at Jalan Sungai Besi, Cheras here, on March 24, last year. Oringzeid and Sajjad also robbed the victims of two cell phones before escaping in a van.

Their counsel, Tharamjit Singh said in mitigation that they were remorseful for their actions.

-- BERNAMA