Borneo Post, Kuching, 6 February 2007
Former used-car salesman gets 10 years jail, 10 lashes for drugs
IPOH: A former used-car salesman was yesterday sentenced by the High Court here to 10 years jail and given 10 strokes of the rotan for possessing 27.8 grammes of heroin.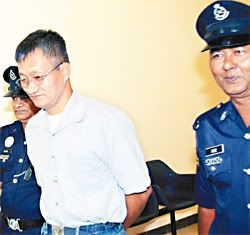 DRUG CONVICT: Choong escorted by police personnel outside the courtroom. -- Bernama photo
Judge Datuk Balia Yusof Wahi ordered Choong Hock Chuan, 43, from Georgetown, Penang to serve the jail sentence from the date of his arrest, which was on Aug 2, 2002.
Choong had pleaded guilty last Jan 18 to an alternative charge of possessing the heroin in front of shop No 30A, Persiaran Medan Bercham 6, Pusat Bandar Bercham on Aug 2, 2002.
Deputy Public Prosecutor Siti Badariah Mohd Yusof in asking the court for a heavy sentence said Choong had been sentenced to 14 years jail and 10 strokes of the rotan by the High Court in Shah Alam in 1995 also for drug possession, involving 1,296.5 grammes of heroin.
In mitigation, Choong, who was represented by lawyer Manjeet Kaur, asked to be transferred to the Penang Prison, from the Taiping Prison where he is currently detained, to serve the remaining jail sentence so that it would be easier for his wife and three children to visit him. -- Bernama
Country files: Judicial CP in Malaysia
Article: Judicial caning in Malaysia
Topics A to Z: Caning in Malaysia