The Star, Kuala Lumpur, 9 November 2006
Seven Indons get total of 97 years' jail
MUAR: Seven Indonesian men were sentenced to a total of 97 years' jail and 84 strokes of the rotan by two Sessions Courts here.
The men were charged with several counts of robbery and armed robbery which were carried out in several places in the district this year.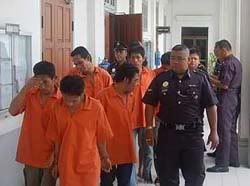 The seven Indonesian robbers being led by police at the courthouse in Muar recently.
Saparudin Mohd Ali, from Riau, Sumatra, was sentenced by the Sessions Court Two to six years' jail and ordered to be given six strokes of the rotan after he pleaded guilty to a charge of robbery carried out last September.
For a armed robbery charge, Saparudin, who was charged along with Andi Ani, was sentenced by Sessions Court One to 10 years' jail and ordered to be given eight strokes of the rotan.
Andi, who pleaded guilty to a robbery charge at Sessions Court Two and sentenced to six years' jail and ordered to be given six strokes of the rotan, claimed trial on a second charge of armed robbery.
Sessions Court One Judge Norazlan Ahmad fixed Jan 18 next year for the case to be mentioned again.
Another Indonesian, Darma Yuda, was sentenced to six years jail and ordered to be given six strokes of the rotan by Sessions Court Two Judge Mohd Haldar Abdul Aziz after he pleaded guilty to a robbery charge.
Darma, from Batam, was also sentenced to a total of 24 years' jail and ordered to be given a total of 18 strokes of the rotan after he pleaded guilty to two armed robbery charges at Sessions Court One.
Judge Norazlan also ordered Darma's jail terms to run consecutively beginning Monday.
Another Indonesian man, Mohamad Arsha Ahmad, from Selat Panjang, Sumatra, facing three armed robbery charges, was sentenced to a total of 27 years' jail and ordered to be given a total of 22 strokes of the rotan.
The court also ordered for his jail terms to run consecutively beginning from the date of arrest on Oct 1 this year.
Three other Indonesian men, Yusri, Iwan Majid and Chayadi Tringgoro, who all pleaded guilty to a robbery charge, were each sentenced to six years' jail.
The Sessions Court Two also ordered for each one of them to be given six strokes of the rotan and the jail term to begin from their date of arrest on Oct 1.
© 1995-2005 Star Publications (Malaysia) Bhd (Co No 10894-D)
---
---
The Star, Kuala Lumpur, 14 November 2006
Daily to get warning over prison caning DVD
KUALA LUMPUR: A warning letter will be issued to a Malay daily over a report on the sale of pirated DVDs showing inmates being caned by prison officials.
Deputy Internal Security Minister Datuk Fu Ah Kiow said the Harian Metro report insinuated that the prison authorities had something to hide.
"It should be reported as a news item instead of insinuating that the prison department is illegally flogging prisoners," he said at the Parliament lobby yesterday.
Fu was commenting on the front page story showing a video footage of prisoners being caned. The scenes are contained in DVDs which are being sold illegally.
Fu said there was nothing secretive about the video recording which was used internally and during exhibitions as an educational and awareness documentary to deter people from taking up a life of crime.
The report said the recording, classified as confidential, was leaked from the Prisons Department and sold as pirated copies.
Fu said part of the pirated DVD was copied from a 2004 recording by the Seremban Prison to show to people that crime does not pay.
He said the recording was also shown to the Parliamentary Select Committee on the Criminal Procedure Code last year, the Negri Sembilan Youth Council and the state's special committee on social ills.
"We will send a warning letter to them soon. It was also very wrong of them to link the flogging to the nude squat incident last year. This is uncalled for. What are they trying to insinuate?" said Fu.
© 1995-2005 Star Publications (Malaysia) Bhd (Co No 10894-D)
---
---
New Straits Times, Kuala Lumpur, 15 November 2006
36 years' jail for raping daughter
By Rita Jong
SHAH ALAM: For two years, a 10-year-old girl kept a dark secret. She did not tell anyone that her father had been sexually abusing her. She did not even tell her mother, afraid that it would cause the family to break up. Her mother, however, became suspicious when the girl, the eldest of three children, kept insisting that she wanted to follow her mother to the temple.

She told her mother: "I want to tell God my darkest secret." That made the mother force the truth out of the girl. And when the truth was revealed, the family did break up.

The girl told her mother that her father had not only raped her but he had also sodomised and forced her to perform oral sex on him. On several occasions, she was slapped until she passed out, only to regain consciousness to find her father naked beside her. He had also threatened to kill her if she told anyone.

Yesterday, her father, a 38-year-old fishmonger felt the full force of the law. He was sentenced to 36 years' jail and ordered to be whipped 24 times after he pleaded guilty to four counts of sexually abusing his daughter.

The offences were committed at their family home in Serendah in January and August 2004. The victim was eight when she was first abused. It lasted for two years but she only remembered the dates of the last attacks. She had marked them on a calendar.

In passing sentence, Sessions Court judge Azimah Omar described the father's acts as disgusting and despicable. "You have ruined her future. You are worse than an animal," she said. Azimah said the court had to ensure that sex offenders were severely punished. "Why should I show you leniency when you did not show any pity towards your daughter?" she said.

Azimah sentenced the accused to 18 years' jail and five strokes for the first rape charge, the maximum 20 years and six strokes for the second rape count and another 18 years and six strokes for forcing his victim to perform oral sex. She ordered these sentences to run concurrently from Aug 31, 2004, the date of his arrest. For the sodomy charge, she sentenced the accused to 16 years' jail and ordered that he receive seven strokes of the rotan.

"This sentence is to run after you serve your first 20 years," she said.

In mitigation, the accused pleaded for leniency as he has asthma. He said he had repented and asked for a concurrent sentence.

Deputy public prosecutor Samihah Rhazali pressed for a deterrent sentence to reflect the seriousness of the offence.

The accused was charged on Sept 13, 2004, but claimed trial. Yesterday, he changed his plea.
© Copyright 2006 The New Straits Times Press (M) Berhad. All rights reserved.
---
---
Daily Express, Kota Kinabalu, 25 November 2006
Filipino couple get life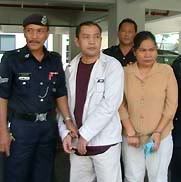 Kota Kinabalu: High Court Judge Datuk Ian H. C. Chin on Friday found a visiting Filipino married couple guilty of having 336.66gm of Syabu in a hotel room in August last year and sentenced them to life imprisonment (maximum 20 years).
He also ordered that the man, Timhar Jimdani Ong, be given 10 strokes of the cane.
"In so far as what was said on behalf of the two accused in mitigation is concerned, none of it can justify the lessening of a sentence which a court would otherwise pass," held the judge.
Earlier, counsel Datuk Chau Chin Tang, mitigating for the minimum five years' jail term for textile shop-owner Timhar, 39, and his wife/business partner Nurie Ammang Ong, 39, said the couple were first offenders. "They have seven children aged between 11 and three, presently being looked after by the woman's mother." Counsel urged the court to "seriously consider the fact that if they were to be sentenced to long imprisonment, the welfare of their children may not be well looked after."
Justice Chin: Being married, committing their first offence and with many young children in the Philippines are factors usually present in many (mitigation plea) cases. In fact, being married and having children should have made the two accused consider the harm they would cause their children before embarking on their journey from the Philippines to Sabah to commit the offence for which they have been found guilty."
The judge accentuated that the sentence he meted out should and would serve to deter "those with children should they think of such unlawful enterprise".
DPP Jamil Aripin, in urging the court to impose the maximum sentence, submitted, among others, that the severity of the offence outweighed the fact that both were first offenders. "If they could come to Sabah without their children, there would not be any problem for them to be imprisoned for life."
The judge further recalled (as reminded by DPP) the case of PP v Mohammad Bin Ambunani [4 CLJ 871, which he presided over 12 years ago involving a Filipino who he sentenced to life imprisonment after the accused pleaded guilty to possession of 184 grams of cannabis. "Why should the sentence be any less when the two accused had chosen not to plead guilty? There cannot be any valid reason."
He further held: "This country is, in my view, losing the battle against this drug scourge which, I quote here what I have said in that case 12 years ago, "poisons the body and weakens the soul of our citizens".
"Rehabilitation after rehabilitation addicts return to their habit and this is because of the continued availability of drugs. The battle is lost because we cannot stamp the flow, that is, the source of the drug could not be located and destroyed. The battle against the drug menace is fought in many fronts, one of that being in the courts. Once a person is found guilty the appropriate sentence must be imposed as reflected in the severity of the sentence which the offence carries and also the court must take into account the upsurge in the number of drug cases.
"Just this year alone and up to now, I have conducted 10 trials of drug cases. If I take into account the past 15 years, over a hundred accused persons were hauled before me on drug charges. Given that statistics, surely no one can say that drug offences are not rampant. This tide must be stopped in order to stop more of our citizens from being drowned in drugs and in misery with the result that tremendous harm is caused to the nation. The amount of drugs recovered in this case can be sentenced under the Section for which they are convicted."
Justice Chin also ordered that Timhar be given 10 strokes of the cane, as provided for under the charge, Section 12(2) of the Dangerous Drugs Act 1952 and punishable under Section 39A(2)( r) of the same Act.
Counsel Chau indicated he would be filing an appeal against the conviction and sentence.
Copyright © Daily Express, Sabah, Malaysia