New Straits Times, Kuala Lumpur, 1 January 2005
Man jailed 12 years for sodomising boy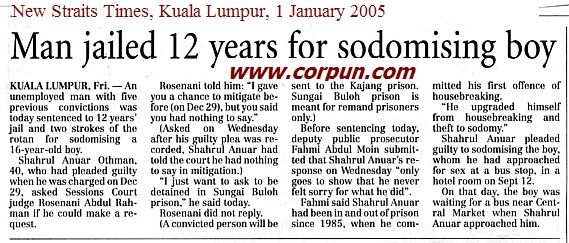 Click to enlarge
KUALA LUMPUR, Fri. -- An unemployed man with five previous convictions was today sentenced to 12 years' jail and two strokes of the rotan for sodomising a 16-year-old boy.
Shahrul Anuar Othman, 40, who had pleaded guilty when he was charged on Dec 29, asked Sessions Court judge Rosenani Abdul Rahman if he could make a request.

Rosenani told him: "I gave you a chance to mitigate before (on Dec 29), but you said you had nothing to say."

(Asked on Wednesday after his guilty plea was recorded, Shahrul Anuar had told the court he had nothing to say in mitigation.)

"I just want to ask to be detained in Sungai Buloh prison," he said today.

Rosenani did not reply.

(A convicted person will be sent to the Kajang prison. Sungai Buloh prison is meant for remand prisoners only.)

Before sentencing today, deputy public prosecutor Fahmi Abdul Moin submitted that Shahrul Anuar's response on Wednesday "only goes to show that he never felt sorry for what he did".

Fahmi said Shahrul Anuar had been in and out of prison since 1985, when he committed his first offence of housebreaking.

"He upgraded himself from housebreaking and theft to sodomy."

Shahrul Anuar pleaded guilty to sodomising the boy, whom he had approached for sex at a bus stop, in a hotel room on Sept 12.

On that day, the boy was waiting for a bus near Central Market when Shahrul Anuar approached him.
Copyright © 2004 NST Online. All rights reserved.
---
---
The Star, Kuala Lumpur, 5 January 2005
Cane sex offenders, panel told
JOHOR BARU: The cane should be used on sex offenders even though they are in their 50s.
By the same token, snatch thieves should also be caned to deter them from committing the crime again.
These are some of the "popular" proposals given by the people to the Parliament Select Committee which is drafting the Criminal Procedure Code (Amendment) Bill and Penal Code (Amendment) Bill.
Committee chairman Datuk Mohd Radzi Sheikh Ahmad said those who suggested that the cane be used on sex offenders aged above 50 argued that if the person could commit the crime then there should not be any sympathy for him.
"Such a punishment can act as a deterrent to others.
"We received the same views from those who suggested the same punishment for snatch thieves," he said after a public hearing conducted by the committee at the Bangunan Sultan Ibrahim here yesterday.
The committee had organised the hearings in the northern states and Sabah and Sarawak before coming to Johor.
Its next stop will be Malacca tomorrow and Seremban the following day. The hearings will be held at the state assembly buildings.
Mohd Radzi, who is Minister in the Prime Minister's Department, said other proposed amendments to the CPC and Penal Code were for the police to obtain approval from the Attorney-General's Chambers to tap private telephone lines of terror suspects.
There was also a proposal to reprimand police personnel who took a long time to complete investigations.
"We want the NGOs and members of the public to attend the hearings and tell us what they think about the proposals.
"Everyone is also welcomed to give suggestions because such a hearing is not common," he said, adding that the last time the CPC and Penal Code were amended was over 20 years ago.
© 1995-2004 Star Publications (Malaysia) Bhd (Co No 10894-D)
---
---
New Straits Times, Kuala Lumpur, 12 January 2005
Youth gets five years' jail and five strokes of rotan for robbing and hurting aunt
By P. Sharmini
SEREMBAN, Wed: A 26-year old unemployed youth was sentenced to five years' jail and be given five strokes of the rotan by the Sessions Court today after he pleaded guilty to voluntarily causing hurt while robbing his aunt last month.
Shahrul Anuar Pakharuddin, from Batu 13½, Bota Kiri, Bota, Perak, was charged with another person still at large, with robbing Junidah Saad, 52, of a gold chain and bracelet worth RM1,500 at an unnumbered house at Batu 17, Ulu Klawang, Jelebu and voluntarily injuring her. The incident occurred on Dec 23 at 6.30am.

The offence, under Sections 394 and 34 of the Penal Code, is punishable with a jail term, which may extend to 20 years, and fine or whipping.

The accused had pleaded guilty to the offence when charged last Thursday.
Copyright © 2004 NST Online. All rights reserved.
---
---
The Star, Kuala Lumpur, 12 January 2005
Rapist dad gets 54 years' jail and 24 strokes of rotan
KUANTAN: An ex-security guard was jailed a total of 54 years and ordered to be given 24 strokes of the rotan by the Sessions Court here yesterday for raping his three daughters when they were aged six, eight and nine.
The 47-year-old man was found guilty of committing the offences at a house in Pekan between 1994 and 2002.
Sessions Judge Mohamad K. Abdul Rahman sentenced the man to 18 years' jail and eight strokes of the rotan for each charge and ordered them to be served consecutively.
The first offence was committed on his eldest daughter from 1994 until 1998 when she was six to 10 while the second offence was committed on the other daughter between 1996 and 1999 when she was six to nine.
He also raped his third daughter between 2000 and May 3, 2002 when she was six to eight.
Before passing sentence, Mohamad said he was astonished that there were people like the accused who could do such a heinous thing.
"It still happens although the courts have been handing down heavy penalties to those who had committed incest.
"I agree with the prosecution who submitted that a father should be a protector to the children and one who does not take advantage of his young ones," he added.
The court had no other choice but to impose the most severe penalty as a deterrent sentence, he said.
Mohamad also ruled out the accused's contention that his wife had conspired to make him a victim and that he could not have committed the offences as he was hardly home.
The accused was represented by counsel Datuk Mohd Sofian Abdul Razak while DPP Kalmizah Salleh prosecuted.
© 1995-2004 Star Publications (Malaysia) Bhd (Co No 10894-D)
---
---
The Star, Kuala Lumpur, 12 January 2005
Thief jailed 10 years
By Hamdan Raja Abdullah
MUAR: A 30-year-old man who was nabbed by passers-by after a failed attempt to grab a bagful of money totalling RM30,000 from a fast-food restaurant manager here last month has been sentenced to 10 years' jail.
Judge Mohd Fauzi Mohd Nasir also ordered K. Puspanathan to be given nine strokes of the cane for hurting and trying to rob Siti Noranaliza Karman, who worked at the Kentucky Fried Chicken outlet in Jalan Arab here at 11.30am on Dec 20.
OFF TO JAIL: Puspanathan being led out of the Sessions Court in Muar by police after he was sentenced Tuesday.
Puspanathan pleaded guilty to committing the offence with another man, who is still at large, at Jalan Sulaiman not far from the fast-food outlet.
In mitigation, Puspanathan, who was not represented, asked the court for a lenient sentence, saying that he had pleaded guilty to the charges and that the plea had saved the court's time.
However, prosecuting officer Asst Supt Lim Ah Bah asked the court to pass an appropriate sentence against Puspanathan who had committed a serious offence and also had other criminal records.
Earlier, Sultanah Fatimah Specialist Hospital medical officer Dr Mohd Sharif Abdul Wahab told the court that he had examined Siti Noranaliza's injuries when she was brought to the hospital at about 1.30pm on Dec 20.
He said the examinations showed her left hand was broken and she had difficulty moving the hand, which was treated through a minor surgery.
Siti Noranaliza was seven months' pregnant at the time of the incident.
© 1995-2004 Star Publications (Malaysia) Bhd (Co No 10894-D)
---
---
Malaysiakini.com, 26 January 2005
Aids threat via prison caning
By Human Rights Concerned Person
Recently, I was shocked to be informed that prisoners in Malaysian jails are caned with the same bloody cane that is already soaked with blood from the caning of the previous prisoner.

Although the prison doctor has checked and certified that these to be caned prisoners are fit, there needs to be specific blood tests to rule out blood borne diseases such as HIV, hepatitis etc.
But even if this tests are done, it should be remembered that there is a window period of about three months for false negative results even though the person is already infected with HIV.

This gives rise to the very serious and dangerous possibility of infectious diseases, including HIV, being spread because of contaminated canes. It must be remembered that caned prisoners, sooner or later, rejoin society.

Don't think about wiping the canes clean, using disinfectants or sterilisation as all of these methods have been proven to be ineffective. The authorities must use disposable canes which should be discarded after use on a single prisoner.

These canes must be disposed the same way clinics and hospitals dispose of used needles which means incineration by authorised waste disposers. Clinics can be fined up to RM5,000 if they fail to engage these authorised waste disposers. The prisons' cane usage and disposal must also be subject to the same laws.

Another serious repercussion is the possibility of legal suits from prisoners who claim that they have been infected with HIV through caning procedures in prison. This could lead to the government paying out huge sums in compensation as such a claim would be very difficult to counter.

There is only one foolproof way to prevent this - stop canning [sic]. If we don't, there will be consequences to suffer. Let's not wait for the consequences.
Copyright © 1999-2004 Mkini Dotcom Sdn Bhd. All rights reserved.
---
---
The Star, Kuala Lumpur, 26 January 2005
Court quashes death sentence
By Chelsea L.Y. Ng
PUTRAJAYA: A lorry driver, who was arrested during surveillance for drug trafficking, escaped the death sentence because police pounced on him before the drug deal was completed.
The appellate court allowed Ahmad Sabri Md Isa's appeal yesterday and quashed his conviction. The Bench, however, substituted the sentence with 20 years' jail and 10 rotan strokes for possession of 958g of cannabis.
"The police are to be blamed for not waiting. If they had waited 15 minutes more, it would have been a different story.
"Instead, they acted when the drug was still on the appellant's lap and had yet to be handed over to the police's agent provocateur," said Justice Mokhtar Sidin, who sat with Justices Mohd Ghazali Mohd Yusoff and Tengku Baharudin Shah Tengku Mahmud.
On Jan 11, 2003, Ahmad Sabri was found guilty by the Ipoh High Court on a charge of trafficking in cannabis outside a building in Taman Kledang in Silibin, Ipoh, on Jan 27, 1999.
Evidence showed Ahmad Sabri had had several negotiations with the agent provocateur before they finally met outside the building that night.
In the trial, witnesses also testified that a motorcyclist rode past the agent provocateur's car and threw the package of drug onto Ahmad Sabri's lap while he was sitting in the front passenger seat.
Although the Bench meted out the maximum sentence for a charge of drug possession, they still considered the father of two "lucky" to have escaped the gallows.
"If the arrest had been delayed a short while, you would still probably be on death row," said Justice Mokhtar Sidin.
"However, we still view drug-related offences very seriously because it has become a big menace in Malaysia. There are simply too many drug addicts. This is a social disease that brings about other illnesses such as robbery, thefts and snatch thefts."
In mitigation yesterday, Ahmad Sabri's counsel Naran Singh asked the court to impose a jail sentence from the date of his client's arrest on Nov 27, 1999.
DPP Wong Chiang Kiat pressed for a deterrent sentence, saying that the amount involved was huge.
"The sentence should reflect the severity of the offence. Society should be shown that drug trafficking is not a profitable venture," said Wong.
© 1995-2004 Star Publications (Malaysia) Bhd (Co No 10894-D)