Corpun file 25190 at www.corpun.com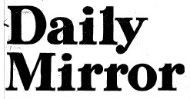 Daily Mirror, London, 22 December 1948, p.5
5ft. 7in., he spanked his 6ft. wife with slipper
WHEN a 6ft. wife returned home in Nairobi at 8.30 p.m., she found her husband 5ft. 7in. Army major -- waiting with a slipper.
Determined "to teach her a lesson," he locked the bedroom door, shut the windows so that her squeals should not be heard and gave her what he considered a good and well-deserved walloping for getting in late.
This was how Mr. Commissioner Blanco White in the Divorce Court yesterday, described the husband's conduct when he granted a decree nisi to Mrs. Pauline Stevens, 29, mother of three children, on the ground of cruelty.
After the case Major John Auverney Stevens, 38, went back to his pupils at the Royal Military College, Shrivenham, Wilts.
He was ordered to pay the costs of the seven days' hearing, more than £1,000.
His wife -- slim, dark-haired -- said: "Thank goodness, it's over. Marry again? Oh, I don't think so."
The couple married in 1939. The husband was a devout Roman Catholic, the wife a Protestant.
"But it was not the fault of either," he added. "The husband regarded use of contraceptives as a sin."
Click to enlarge
He was satisfied the cause of the breach was the wife's insistence they should practise birth control because of her ill-health and the husband's refusal on religious grounds.
In Kenya they did not lead a normal married life.
At a New Year's dance -- when he held the rank of colonel -- he saw another colonel with his arm round his wife's waist. He dragged her away by the arm and out of the club.
Looking at a photograph, the Commissioner described the other colonel as an "exuberant-looking moustachioed gallant."