The Daily Gleaner, Kingston, 26 January 1959
Constable gets 12 strokes for sex offence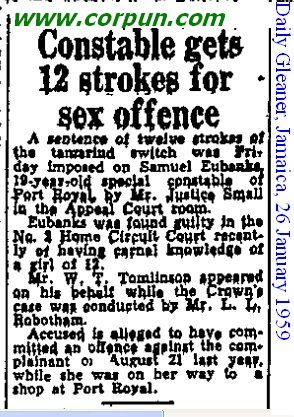 Click to enlarge
A sentence of twelve strokes of the tamarind switch was Friday imposed on Samuel Eubanks, 19-year-old special constable of Port Royal, by Mr. Justice Small in the Appeal Court room.
Eubanks was found guilty in the No. 2 Home Circuit Court recently of having carnal knowledge of a girl of 12.
Mr. W.T. Tomkinson appeared on his behalf while the Crown's case was conducted by Mr. L.L. Robotham.
Accused is alleged to have committed an offence against the complainant on August 21 last year, while she was on her way to a shop at Port Royal.
Country files: Corporal punishment in Jamaica
Archive up to 1975: CP in Jamaica