The Daily Gleaner, Kingston, 17 July 1957
Sentence varied in rape case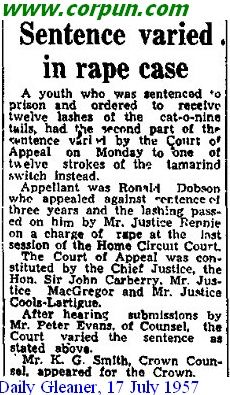 Click to enlarge
A youth who was sentenced to prison and ordered to receive twelve lashes of the cat-o-nine tails had the second part of the sentence varied by the Court of Appeal on Monday to one of twelve strokes of the tamarind switch instead.
Appellant was Ronald Dobson who appealed against sentence of three years and the lashing passed on him by Mr. Justice Reppie on a charge of rape at the last session of the Home Circuit Court.
The Court of Appeal was constituted by the Chief Justice, the Hon. Sir John Carberry, Mr. Justice MacGregor and Mr. Justice Cools-Lartigue.
After hearing submissions by Mr. Peter Evans, of Counsel, the Court varied the sentence as stated above.
Mr. K.G. Smith, Crown Counsel, appeared for the Crown.
Country files: Corporal punishment in Jamaica
Archive up to 1975: CP in Jamaica