Sunday Gleaner, Kingston, 7 January 2007
Prison escapee captured after 26 yrs
By Glenroy Sinclair
Sunday Gleaner Writer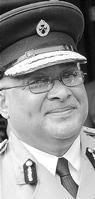 Commissioner of the Correctional Services, Major Richard Reese. - File
Twenty-six years after he escaped from the Kingston Public Hospital (KPH) while serving time for shooting with intent and robbery with aggravation, 55-year-old Curtis Kirk-Patrick is back behind bars after a short trip overseas.
Inspector Victor George Henry, who confirmed the story, said the fugitive was picked up on Wednesday, at a private laboratory in Linstead, St. Catherine, where he was employed as a radiologist for some time.
"The police have been tracking him down," said Insp. Henry, operations officer at the Constabulary Communication Network (CCN). Reports are that on May 5, 1980, Kirk-Patrick, who was sentenced to 15 years on the two charges, took ill and was taken to the KPH. He was being guarded by correctional officers when he escaped custody.
"The officers who were guarding him at the time have since been dismissed," Major Richard Reese, head of the Department of Correctional Services (DSC) told The Sunday Gleaner on Friday.
Fugitive
The fugitive was convicted on January 10, 1974. His two 15-year prison terms were supposed to run concurrently. He was also sentenced to 10 lashes, five of which he received on his way in, and the other five to be given at the end of his sentence.
While he has been booked to appear in the Corporate Area Criminal Court on Monday to answer to the charge of escaping, Kirk-Patrick will still have to serve the remaining four years of his sentence.
"We have sent out a number of posters with the photographs of these escapees to the various police units and law enforcement agencies overseas," said Major Reese. "It has been successful so far because another escapee, a guy by the name of 'Rutterford', has been recaptured overseas. We are just awaiting for his arrival in the island," added Reese.
Copyright Jamaica-Gleaner.com