Glasgow Herald, 29 March 1966
Youth sentenced to birching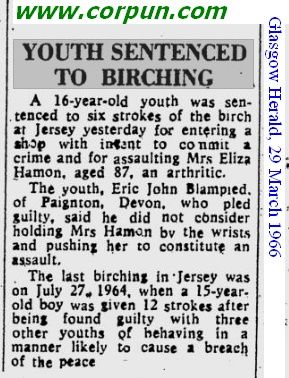 Click to enlarge
A 16-year-old youth was sentenced to six strokes of the birch at Jersey yesterday for entering a shop with intent to commit a crime and for assaulting Mrs Eliza Hamon, aged 87, an arthritic.
The youth, Eric John Blampied, of Paignton, Devon, who pled guilty, said he did not consider holding Mrs Hamon by the wrists and pushing her to constitute an assault.
The last birching in Jersey was on July 27, 1964, when a 15-year-old boy was given 12 strokes after being found guilty with three other youths of behaving in a manner likely to cause a breach of the peace.
Archive: Corporal punishment in Jersey up to 1975