Jersey Evening Post, 3 August 1962
Birch for youth who hit Frenchman
Milk bottle broken in Bagatelle Road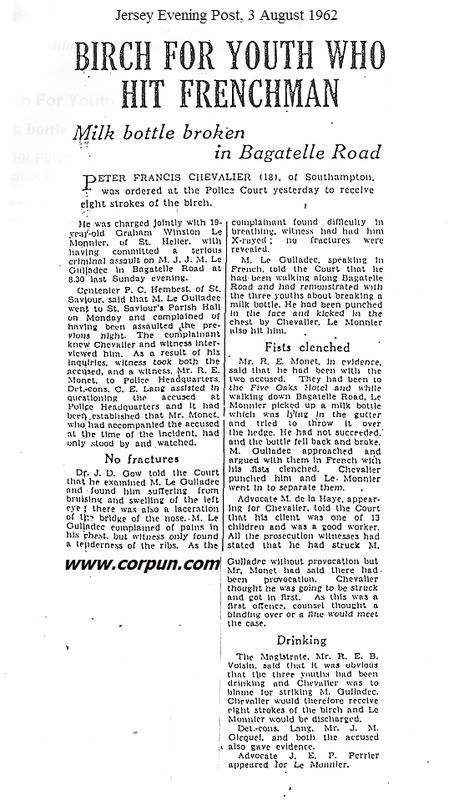 PETER FRANCIS CHEVALIER (18), of Southampton, was ordered at the Police Court yesterday to receive eight strokes of the birch.
He was charged jointly with 19-year-old Graham Winston Le Monnier, of St. Helier, with having committed a serious criminal assault on M. J.J.M. Le Gulladec in Bagatelle Road at 8.30 last Sunday evening.
Centenier P.C. Hembest, of St. Saviour, said that M. Le Gulladec went to St. Saviour's Parish Hall on Monday and complained of having been assaulted the previous night. The complainant knew Chevalier and witness interviewed him. As a result of his inquiries, witness took both the accused, and a witness, Mr. R.E. Monet, to Police Headquarters. Det.-cons. C.E. Lang assisted in questioning the accused at Police Headquarters and it had been established that Mr. Monet, who had accompanied the accused at the time of the incident, had only stood by and watched.
No fractures
Dr. J.D. Gow told the Court that he examined M. Le Gulladec and found him suffering from bruising and swelling of the left eye; there was also a laceration of the bridge of the nose. M. Le Gulladec complained of pains in his chest, but witness only found a tenderness of the ribs. As the complainant found difficulty in breathing, witness had had him X-rayed; no fractures were revealed.
M. Le Gulladec, speaking in French, told the Court that he had been walking along Bagatelle Road and had remonstrated with the three youths about breaking a milk bottle. He had been punched in the face and kicked in the chest by Chevalier. Le Monnier also hit him.
Fists clenched
Mr. R.E. Monet, in evidence, said that he had been with the two accused. They had been to the Five Oaks Hotel and while walking down Bagatelle Road, Le Monnier picked up a milk bottle which was lying in the gutter and tried to throw it over the hedge. He had not succeeded, and the bottle fell back and broke. M. Gulladec approached and argued with them in French with his fists clenched. Chevalier punched him and Le Monnier went in to separate them.
Advocate M. De la Haye, appearing for Chevalier, told the Court that his client was one of 13 children and was a good worker. All the prosecution witnesses had stated that he had struck M. Gulladec without provocation but Mr. Monet had said there had been provocation. Chevalier thought he was going to be struck and got in first. As this was a first offence, counsel thought a binding over or a fine would meet the case.
Drinking
The Magistrate, Mr. R.E.B. Voisin, said that it was obvious that the three youths had been drinking and Chevalier was to blame for striking M. Gulladec. Chevalier would therefore receive eight strokes of the birch and Le Monnier would be discharged.
Det.-cons. Lang, Mr J.M. Gicquel, and both the accused also gave evidence.
Advocate J.E.P. Perrier appeared for Le Monnier.
---
---
Jersey Evening Post, 17 August 1962
Grands Vaux handbag snatching
Twelve strokes of the birch for London youth
At the Police Court this morning Clive Gregory Foreman (19), a native of Tilbury, was sentenced to 12 strokes of the birch for his part in the assault and handbag snatching incident in Grands Vaux on July 25th.
Foreman had been under remand since July 27th and this morning Centenier W.A. Parker, who presented the case, said that the other person involved was expected to be presented shortly.
Advocate J.E.P. Perrier, on behalf of the accused, said that Foreman had been detained since July 25th and all the evidence had now been given. Foreman, he stated, was not so involved as the other man and he suggested that in fairness to all concerned the accused be dealt with now.
Other alternatives
The Magistrate, Mr R.E.B. Voisin, agreed and said that he was loath to sent the young man to prison; the other alternatives were binding over, probation or birching. He did not favour probation in this case, as Foreman was not a local youth and there would be no supervision. Cases of assaults on inoffensive women in the streets of the town must be dealt with severely and he would order 12 strokes of the birch.
Advocate Perrier said that he was instructed to offer Foreman's apologies and to say that he would repay the damage caused.