Corpun file 20936 at www.corpun.com
Jersey Evening Post, 2 August 1960
Arrived yesterday
Birched this morning
Sailed this afternoon

Click to enlarge
A 15-year-old Kent youth, who arrived in the Island only yesterday as a crew member of the tanker Allegrity, was sentenced to 12 strokes of the birch at the Police Court to-day for car "borrowing."
The youth, Terence Stephen Robinson, of Northfleet, was charged with taking a car from the New North Quay last night without permission, with failing to report an accident when he crashed into another car and with not holding a valid licence or insurance.
P.c.s Robert Medder and John Gaine said they had been sent to the Weighbridge after receiving a report of an accident there. P.c. Gaine said he had gone aboard the Allegrity to apprehend Robinson, who had run down the gangplank to take refuge on the ship.
The car taken by Robinson was on hire to a Mr. H.E. Cabot from Mr. J.E.B. Warren, both of whom gave evidence.
Capt. W.S. Mackay of the Allegrity said Robinson had only been in the crew five days. He thought he needed discipline.
Before passing sentence, the Magistrate, Mr. R.E.B. Voisin, said Robinson needed "a sharp lesson." A few strokes of the birch, he said, would permit him to rejoin his ship before she sailed this afternoon.
---
Corpun file 25501 at www.corpun.com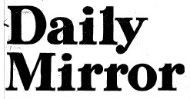 Daily Mirror, London, 3 August 1960, p.5
Boy, 15, is birched
'You need lesson'
Click to enlarge
A FIFTEEN-YEAR-OLD boy was told by a magistrate yesterday: "What you need is a short, sharp lesson."
The boy was taken from the magistrate's court to a nearby prison... and given 12 STROKES OF THE BIRCH.
He was then taken from the prison, at St. Helier, Jersey, and put aboard his ship, the tanker Allegrity, in St. Helier Harbour.
The boy, Terence Stephen Robinson, of Shepherd-street, Northfleet, Kent, went ashore at St. Helier on Monday.
He got into a car on the quayside.
He drove the car for 100 yards -- and it crashed into a stationary car.
Robinson admitted taking the car without the owner's consent, driving without a licence or insurance, and failing to report an accident.
When he appeared in court yesterday it was said that he had joined the Allegrity as a deck boy only four days before.
Robinson was examined by a doctor and found fit to receive the birching.
At St. Helier Prison, one warder held Robinson's arms while another birched the boy.
Shortly before Robinson sailed aboard the Allegrity for London last night, he said: "I felt a bit sore at first."
-- Corporal punishment was abolished in England in 1948. Jersey has its own laws.