Aftenposten on line, Oslo, Norway, 15 May 2007
Whipped for two beers
Aftenposten's Norwegian reporter Randi Johannessen
Aftenposten English Web Desk Jonathan Tisdall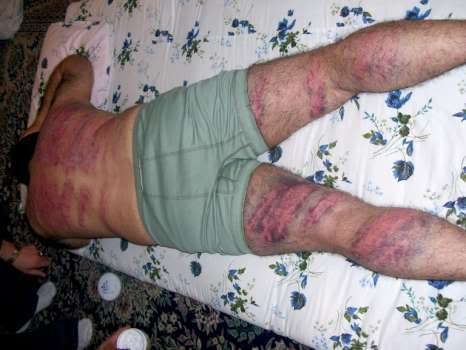 Mamand Mamandy is still receiving treatment for the public lashing he received.
PHOTO: PRIVAT
Norwegian-Iranian Mamand Mamandy had a brutal meeting with police after drinking two beers while on holiday in Iran.
"It's getting better now, but I am still in great pain," Mamandy, 35, told Aftenposten.no. "My brother is a doctor, and treated me after the whipping. I was in great pain and could not sleep."
Mamandy, a Kurd, explained that he was visiting his mother in Baneh, Iran in April when he was arrested by police.
"We were on an outing with family and friends, six or seven in the evening, and were having a barbecue and enjoying ourselves. Altogether I drank two beers. The police happened to drive by," Mamandy said.
He said that he was immediately arrested and taken to the police station where he was sentenced to 130 lashes. This sentence, for beer drinking, was carried out publicly according to news agency Iran Focus.
"I received 130 lashes on the back of my body. Police whipped me," Mamandy said. He came to Norway as an asylum seeker in 1999. He lives in Drammen with his wife and they are awaiting Norwegian citizenship.
Mamandy traveled home to Norway shortly after his punishment and has been since treated by his family doctor here.
Aftenposten.no has been in contact with the Foreign Ministry, who said that they had not been contacted by Mamandy or his family in connection with the matter.
© Aftenposten Multimedia.