Boca Raton News, Florida, USA, 16 August 1970
Gets a whipping for hugging girl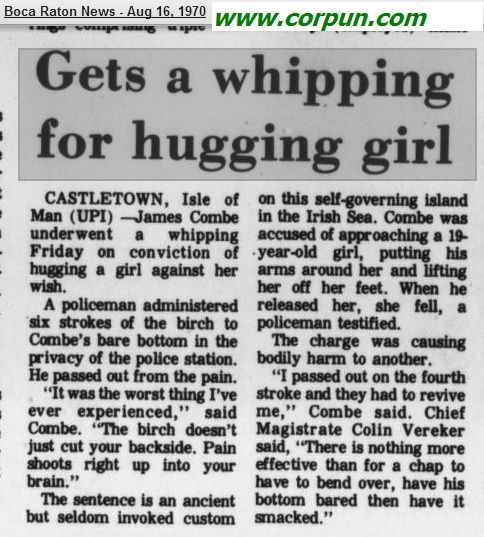 Click to enlarge
CASTLETOWN, Isle of Man (UPI) -- James Combe underwent a whipping Friday on conviction of hugging a girl against her wish.
A policeman administered six strokes of the birch to Combe's bare bottom in the privacy of the police station. He passed out from the pain.
"It was the worst thing I've ever experienced," said Combe. "The birch doesn't just cut your backside. Pain shoots right up into your brain."
The sentence is an ancient but seldom invoked custom on this self-governing island in the Irish Sea. Combe was accused of approaching a 19-year-old girl, putting his arms around her and lifting her off her feet. When he released her, she fell, a policeman testified.
The charge was causing bodily harm to another.
"I passed out on the fourth stroke and they had to revive me," Combe said. Chief magistrate Colin Vereker said, "There is nothing more effective than for a chap to have to bend over, have his bottom bared and then have it smacked."
Article: Birching in the Isle of Man 1945 to 1976
Archive up to 1975: Isle of Man corporal punishment