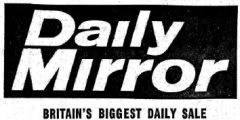 Daily Mirror, London, 20 November 1969
Mirrorscope
Bill the bircher
'I can't remember anyone coming back for a second dose'
By Edward Macauley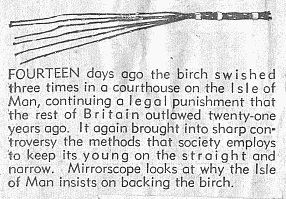 The birch is a cluster of seven or eight leafless branches three feet long and tightly bound at the base with sticking plaster. Its impact is guaranteed to bring tears to the eyes instantly.
It has been wielded 117 times in the past seventeen years on the Isle of Man, where it is held by authority to be an essential arm of justice.
This week its latest use -- on a 15-year-old handbag-snatcher who, two days before birching, had attempted suicide -- has rekindled the protests of all who want to see it scrapped.
The morality of using instruments of primitive punishment is explained by Mr. Bill Quayle, chairman of the island's Tourist Board, who admits without rancour or pride to being known as Birching Bill.
Mr. Quayle is an affable, hard-working member of the IOM parliament, the House of Keys, and a magistrate who has personally directed about fifty birching sentences since the war.
He says: "We have little physical violence on this island and I firmly believe this is due to our use of the birch.
"I see it as an added deterrent, something extra to the usual punishment which magistrates are authorised to hand out.
"Magistrates on the mainland have an appalling headache because they have no parallel punishment to offer. I have spoken to many and they would be in favour of using the birch, particularly against people like Soccer hooligans.
"I believe that troublemakers fear physical hurt to themselves and because of that the birch would be a deterrent. I can't remember anybody coming back for a second dose, and you can take it that this includes a lot of tough-nut characters."
Mr. Quayle's views are echoed by a former policeman, Mr. Henry Corlett, who used to beat the young offenders. He says he was known as The Ghoul.
"That doesn't worry me, and it didn't at the time. I was only doing a job which I thought was essential to justice.
"I certainly had no compunction about whacking anybody, because usually they had frightened the life out of someone, or hurt someone."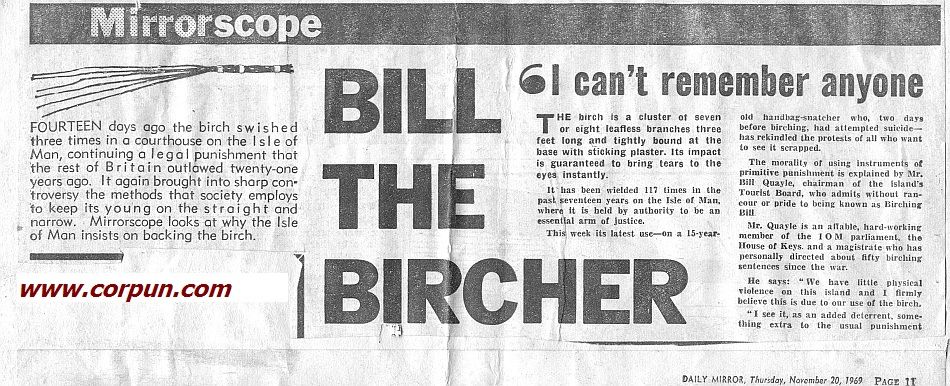 Click to enlarge
Magistrates have the power to order six strokes of the cane on the clothed bottoms of offending children aged between 8 and 14.
For boys between 14 and 17 the maximum punishment is six strokes of the birch, and for the 17-21 age group the maximum is twelve strokes on the bare backside.
Magistrates, says Mr. Quayle, do not resort lightly to the birch. They give the matter deep consideration. There have even been times, he adds, when a boy's parents have agreed with the sentence.
The ritual of a birching begins with the selection of suitable branches from a stack in a yard of the dark stone courthouse attached to the central police station in Douglas, the island's capital.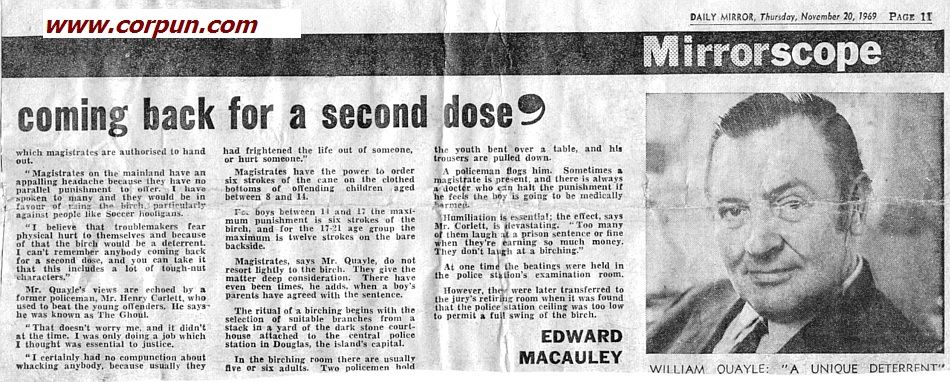 Click to enlarge
In the birching room there are usually five or six adults. Two policemen hold the youth bent over a table, and his trousers are pulled down.
A policeman flogs him. Sometimes a magistrate is present, and there is always a doctor who can halt the punishment if he feels the boy is going to be medically harmed.
Humiliation is essential; the effect, says Mr. Corlett, is devastating. "Too many of them laugh at a prison sentence or fine when they're earning so much money. They don't laugh at a birching."
At one time the beatings were held in the police station's examination room.
However, they were later transferred to the jury's retiring room when it was found that the police station ceiling was too low to permit a full swing of the birch.