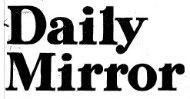 Daily Mirror, London, 7 December 1955
The whip is ordered in terror island
THE first whipping sentence on a schoolboy under the new Cyprus emergency laws was imposed yesterday.
Six strokes were ordered for Nicholas Demetrios, aged fifteen.
He was found guilty of taking part in a rally, "an unlawful assembly," against the death sentence imposed on a terrorist for murdering a Cypriot policeman.
Last night, leaflets distributed in the main towns called off a four-day student strike against the emergency laws.
The leaflets spoke of "unexpected developments" -- believed to be the imminent announcement of a pact on the island's future.
Security precautions will be taken at an airfield in the South of England this week when six London police officers with six police dogs leave for Cyprus.
---
---
The News, Adelaide, Australia, 15 December 1955
Boys whipped in Cyprus
LONDON, Wednesday: A Labor member protested in the House of Commons today against the whipping of boys in Cyprus.
Such methods were more usually associated with Hitler and Franco, Mr. Fenner Brockway (Lab.) said.
He asked the Colonial Secretary, Mr. Lennox-Boyd, why the Government had authorised the whipping of Cypriot boys for attending authorised meetings.
Mr. Lennox-Boyd replied that there were cases where a whipping was far more appropriate than fines paid by parents, or imprisonment.
---
Follow-up: 4 January 1956: Mothers weep at caning sentences

---
---
Time, New York, 19 December 1955
With Rod & Gun
When Governor Sir John Harding declared a state of emergency in Cyprus last month, he decreed jail sentences for demonstrating, death for carrying firearms and "up to twelve strokes with cane, birch or rod" for rioting by school boys. But still the agitation for enosis (union) with Greece continued. Last week four British Tommies were shot down by Sten gunfire from a passing car; a grenade tossed into an army truck killed its driver.
Reluctantly, Field Marshal Harding ordered a search for hidden weapons in more than a score of Greek Orthodox monasteries and nunneries. An army spokesman refused to "say at this time whether the nuns were frisked," but a monk who was carrying an icon-engraved box containing two revolvers was arrested.
While these irritations multiplied, the British in London oddly believed that conditions were about ripe for a settlement.
In the House of Commons last week, British Foreign Secretary Harold Macmillan stated publicly for the first time that he was prepared to promise Cypriots the right to self-determination. This assurance was once thought to be all that Archbishop Makarios III, the enosis leader, was waiting for. Instead, the 42-year-old archbishop dismissed Macmillan's pledge as unsatisfactory because Macmillan had not said when or how.
Copyright © 2005 Time Inc. All rights reserved.
---
Follow-up: 4 January 1956: Mothers weep at caning sentences