The Globe and Mail, Toronto, 15 July 1948, p.27
Punishment 'Excessive', Teacher Is Convicted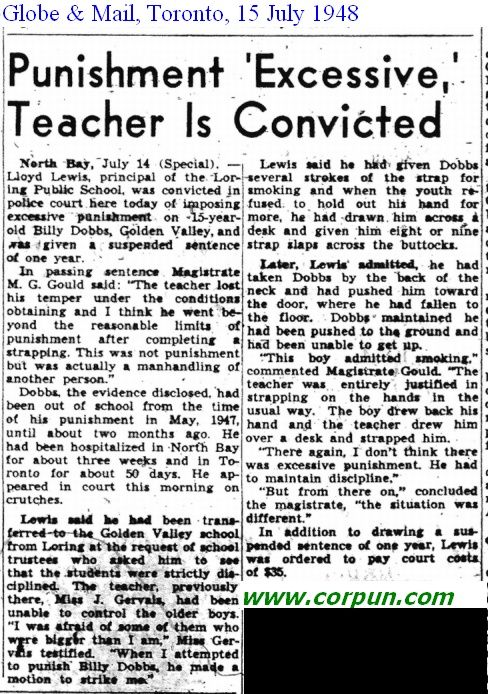 Click to enlarge
North Bay, July 14 (Special). -- Lloyd Lewis, principal of the Loring Public School, was convicted in police court here today of imposing excessive punishment on 15-year-old Billy Dobbs, Golden Valley, and was given a suspended sentence of one year.

In passing sentence Magistrate M.G. Gould said: "The teacher lost his temper under the conditions obtaining and I think he went beyond the reasonable limits of punishment after completing a strapping. This was not punishment but was actually a manhandling of another person."

Dobbs, the evidence disclosed, had been out of school from the time of his punishment in May, 1947, until about two months ago. He had been hospitalized in North Bay for about three weeks and in Toronto for about 50 days. He appeared in court this morning on crutches.

Lewis said he had been transferred to the Golden Valley school from Loring at the request of school trustees who asked him to see that the students were strictly disciplined. The teacher previously there, Miss J. Gervais, had been unable to control the older boys. "I was afraid of some of them who were bigger than I am," Miss Gervais testified. "When I attempted to punish Billy Dobbs, he made a motion to strike me."

Lewis said he had given Dobbs several strokes of the strap for smoking and when the youth refused to hold out his hand for more, he had drawn him across a desk and given him eight or nine strap slaps across the buttocks.

Later, Lewis admitted, he had taken Dobbs by the back of the neck and had pushed him toward the door, where he had fallen to the floor. Dobbs maintained he had been pushed to the ground and had been unable to get up.

"This boy admitted smoking," commented Magistrate Gould. "The teacher was entirely justified in strapping on the hands in the usual way. The boy drew back his hand and the teacher drew him over a desk and strapped him."

"There again, I don't think there was excessive punishment. He had to maintain discipline."

"But from there on," concluded the magistrate, "the situation was different."

In addition to drawing a suspended sentence of one year, Lewis was ordered to pay court costs of $35.
Country files: Corporal punishment in Canadian schools
Other external links: School CP