The Toronto World, 7 March 1912, p.12
Die Rather Than Face "Paddle" Strap
Instrument of Torture That Had Been Abolished From an American Prison Was Used at the Mimico Industrial School to Punish Unruly Ones.

Click to enlarge
Stating before the commission of enquiry that the straps in use at the Mimico Industrial School were regulation straps such as are used in the Toronto public schools, J.M. Godfrey, K.C., counsel for Supt. Ferrier, asked The World to verify this statement. It was found that the regulation strap of the public schools is a strap a little over a foot long and about 1½ inches in width. It is of rubber belting.

One of the straps used at Mimico and the one which Supt. Ferrier said that he thought was the one he had used in whipping the Spain boy is at least 2½ inches wide. It is nearly twice as long as the public school strap. It is a leather strap and is much thicker than the rubber one in use in the public schools.

The most noticeable feature, however, is the series of holes, slightly less than half an inch in diameter, which are punched in the part of the strap which strikes the naked body of the child and which correspond with those of the "paddle" which was abolished from an adult prison in Marquette, Mich.
Intensifies Agony Hundredfold.
In speaking of this "paddle," the current issue of The American Magazine says: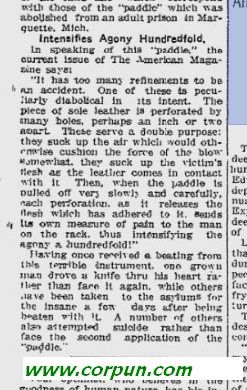 Click to enlarge
"It has too many refinements to be an accident. One of these is peculiarly diabolical in its intent. The piece of sole leather is perforated by many holes, perhaps an inch or two apart. These serve a double purpose: they suck up the air which would otherwise cushion the force of the blow somewhat, they suck up the victim's flesh as the leather comes in contact with it. Then, when the paddle is pulled off very slowly and carefully, each perforation, as it releases the flesh which has adhered to it, sends its own measure of pain to the man on the rack, thus intensifying the agony a hundredfold!"

Having once received a beating from this terrible instrument, one grown man drove a knife thru his heart rather than face it again, while others have been taken to the asylums for the insane a few days after being beaten with it. A number of others also attempted suicide rather than face the second application of the "paddle".
Country files: Corporal punishment in Canada
Other external links: Reformatory CP