Globe & Mail, Toronto, 20 July 1948
MPP, Penologist Urge Abolishment of Strap For Female Prisoners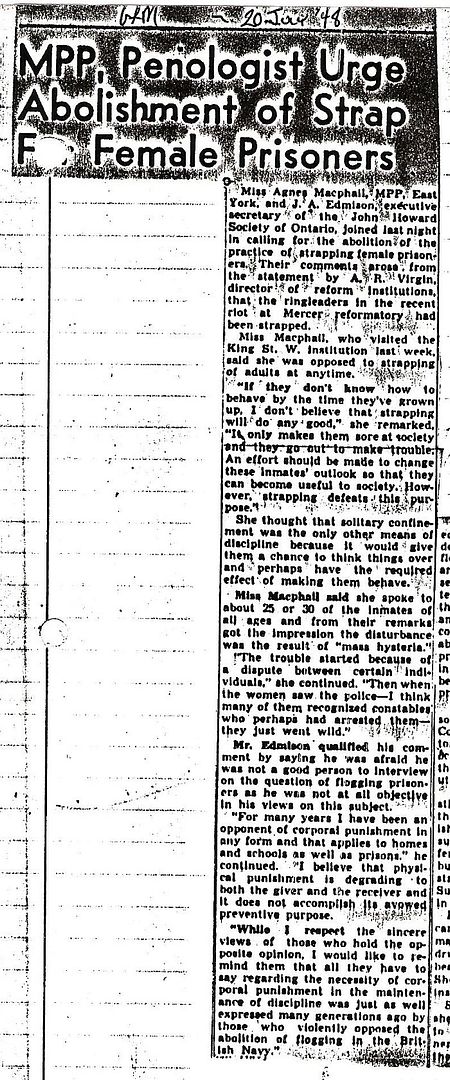 Click to enlarge
Miss Agnes Macphail, MPP, East York, and J.A. Edmison, executive secretary of the John Howard Society of Ontario, joined last night in calling for the abolition of the practice of strapping female prisoners. Their comments arose from the statement by A.R. Virgin, director of reform institutions, that the ringleaders in the recent riot at Mercer reformatory had been strapped.
Miss Macphail, who visited the King St. W. institution last week, said she was opposed to strapping of adults at any time.
"If they don't know how to behave by the time they've grown up, I don't believe that strapping will do any good," she remarked. "It only makes them sore at society and they go out to make trouble. An effort should be made to change these inmates' outlook so that they can become useful to society. However, strapping defeats this purpose."
She thought that solitary confinement was the only other means of discipline because it would give them a chance to think things over and perhaps have the required effect of making them behave.
Miss Macphail said she spoke to about 25 or 30 of the inmates of all ages and from their remarks got the impression the disturbance was the result of "mass hysteria."
"The trouble started because of a dispute between certain individuals," she continued. "Then when the women saw the police -- I think many of them recognized constables who perhaps had arrested them -- they just went wild."
Mr. Edmison qualified his comment by saying he was afraid he was not a good person to interview on the question of flogging prisoners as he was not at all objective in his views on this subject.
"For many years I have been an opponent of corporal punishment in any form and that applies to homes and schools as well as prisons," he continued. "I believe that physical punishment is degrading to both the giver and the receiver and it does not accomplish its avowed preventive purpose.
"While I respect the sincere views of those who hold the opposite opinion, I would like to remind them that all they have to say regarding the necessity of corporal punishment in the maintenance of discipline was just as well expressed many generations ago by those who violently opposed the abolition of flogging in the British Navy."
From another source it was pointed out that the power of the wardens in Canadian penitentiaries to flog a prisoner has been restricted and they must now obtain the consent of the commissioner of penitentiaries. In England the use of the strap [sic]has been reduced steadily and two years ago a parliamentary committee recommended that it be abolished. The flogging of women prisoners in Britain was stopped in 1914. They are now punished by being confined in solitary and deprived of privileges.
More than 100 years ago, this source pointed out, the first Royal Commission to investigate Kingston Penitentiary said without equivocation that it was of the opinion the practice of flogging women is utterly indefensible.
Regulations governing reform institutions in Ontario provide for the administering of corporal punishment at the discretion of the superintendent. In the case of females, the strap is applied to the buttocks and no more than 10 strokes can be given at one time. Such strapping must only be done in the presence of a medical man.
First disclosure of the strapping came when Jillian Johnson, 50, in magistrate's court on a charge of drunkenness, said she saw "girls beaten black and blue" at Mercer. She had been released from the institution only Friday.
Sentenced to another 40 days, she told the court she didn't want to go back to Mercer because her nerves were "shot after the riots there."