Toronto Daily Star, 16 November 1945
To Strap Two Youths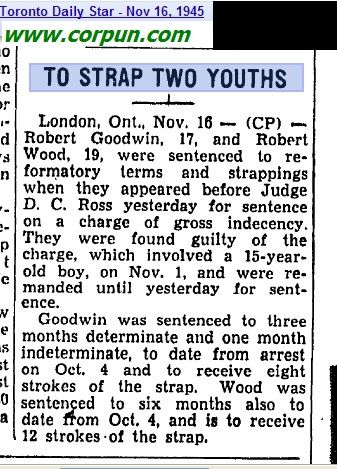 Click to enlarge
London, Ont., Nov. 16 -- (CP) -- Robert Goodwin, 17, and Robert Wood, 19, were sentenced to reformatory terms and strappings when they appeared before Judge D.C. Ross yesterday for sentence on a charge of gross indecency. They were found guilty of the charge, which involved a 15-year-old boy, on Nov. 1, and were remanded until yesterday for sentence.
Goodwin was sentenced to three months determinate and one month indeterminate to date from arrest on Oct. 4 and to receive eight strokes of the strap.
Wood was sentenced to six months also to date from Oct. 4, and is to receive 12 strokes of the strap.
Country files: Corporal punishment in Canada
Article: The Canadian prison strap