Corpun file 25188 at www.corpun.com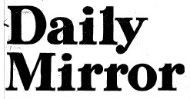 Daily Mirror, London, 19 January 1945, p.3
Spanked his wife by Court order -- she's been good ever since
From John Sampson
New York, Thursday
Click to enlarge
WHEN shipyard worker James Cederburg took his pretty Scottish-born wife across his knee at Vancouver, British Columbia, the spanking he gave her resounded -- metaphorically speaking -- across the length and breadth of Canada.
Hundreds of thousands of Canadian women, as sore about it as Patricia was -- though in a different way -- have called the spanking "a shameful act of barbarism."
And abuse is being hurled not at Patricia's husband alone, but at Magistrate Mackenzie Matheson who SENTENCED Patricia to be spanked.
Her brown hair awry, her blue eyes clouded with a "morning after" mist, she appeared before Magistrate Matheson on a charge of drunkenness.
"What do you do?" asked the magistrate.
"I keep house for my husband," answered Patricia.
A derisive laugh came from the well of the court, and a husky man strode to the front.
"This is my wife," he shouted. "I go off to my work and come home to let her go out."
The court passed sentence and with a sheepish look at her husband Patricia accompanied him home.
"I am sorry, Patricia," he said, though his voice belied the words. "There is nothing else for it -- sentence of court, you know." Thereupon he administered the spanking.
That spanking caused such a sensation in Canada that one newspaper in Winnipeg took a poll of how its readers felt about it.
As for Patricia, she has been as good as gold ever since.