Sunday Standard, Gaborone, 1 February 2009
Chiefs want re-introduction of back lashings
By John Regonamamye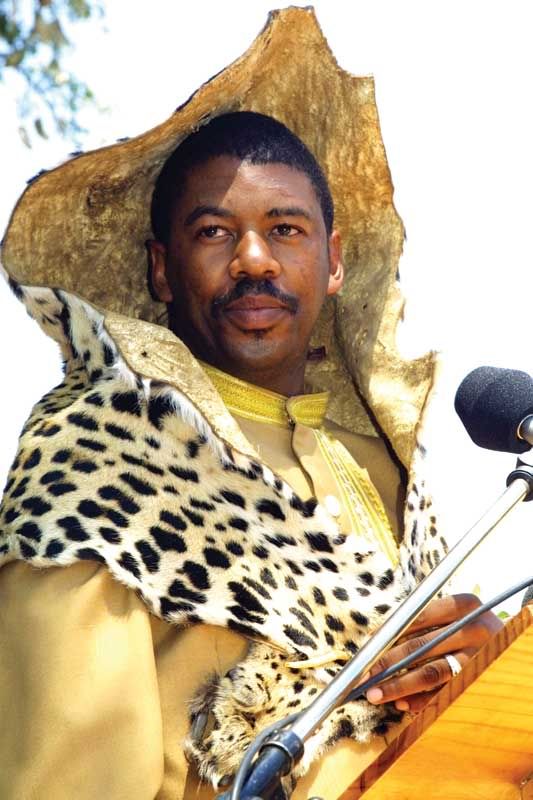 Kgosi Lotlaamoreng II
Overwhelmed by trying numerous cases involving decadent youths, Dikgosi Thursday were up in arms and called on the government to revert to the old system where the culprits were whipped on the back instead of on the buttocks.
The chiefs argued that it was an effective remedy to the rampant delinquency currently perpetrated by the youths.

Contributing to the motion raised by Barolong chief, Kgosi Lotlaamoreng II, pleading with the government to re-introduce back lashing instead of the current buttocks-lashing, the Dikgosi attributed the escalating crime amongst the youths to the lenient sentences imposed on them.

"Crime is escalating at a horrifying rate in this country, particularly amongst the youths," said Kgosi Mosadi Seboko of Bamalete. "They insult, steal and assault one another almost on a daily basis after a drinking binge and the cases end at our tables, only for us to mete out a lighter sentence as dictated by law."

She said that the slashing on the buttocks contributes to these hideous incidences and should be replaced by back lashing.

"Not only are we destined to prosecute cases, Batswana needs to be assisted on varies programmes initiated by the government, which include, among others, CEDA and Young Farmers Fund. We are the right persons to assist on such initiatives but we spend too much time prosecuting petty immoral cases committed by the drunken youths."
Click to enlarge
She echoed the same sentiments raised by Kgosi Lotlaamoreng which called for proof to be provided by those who are against the reintroduction of back lashing.

In the late 80s, the government prohibited back lashings and, instead, introduced the controversial buttock lashing but most Batswana feel that lenient move helped to worsen crime the country is grappling with.
No sooner would the court carry out a buttock lashing than the same offender re-appear on a similar offence.
To bring home their argument, Dikgosi related instances when the culprits would plead for strokes instead of other sentences - a development they believe suggested strokes on the buttocks are ineffective.

They said that suggestions that back strokes could cause kidney problems are blatant lies designed to conceal the truth.

For his part, Kgosi Seepapitso was baffled by the government's willingness to impose and carry out capital punishment but refrain from invoking back strokes.

Adds Bakwena chief Kgosi Kgari: "Corporal punishment is ideal for it reduces government expenditure. Prisoners uniforms, ration and the electricity they use come as government expenditure. With corporal punishment all is done instantly and individuals continue with their everyday living."
Presenting his motion earlier, Kgosi Lotlaamoreng argued there was just too much escalating crime as a result of lighter sentences such as buttock lashing. He urged the government to reintroduce back lashings.
Copyright 2006 Sunday Standard All Rights Reserved