New York Times, 26 January 2009
Bolivians Ratify New Constitution
By Simon Romero
(extracts)

Enrique Castro-Mendivil/Reuters
An Aymara Indian voted Sunday at a polling station in El Alto, Bolivia, a city of slums on the outskirts of the capital, La Paz.
EL ALTO, Bolivia -- President Evo Morales seemed assured of an easy victory in a referendum on Sunday over a sweeping new Constitution aimed at empowering Bolivia's Indians. The vote capped three years of conflict-ridden efforts by Mr. Morales to overhaul a political system he had associated with centuries of indigenous subjugation.
Citing preliminary vote counts, reports on national television said about 60 percent of voters had approved the new Constitution. If that margin holds or goes higher, it would strengthen Mr. Morales's mandate, political analysts here said.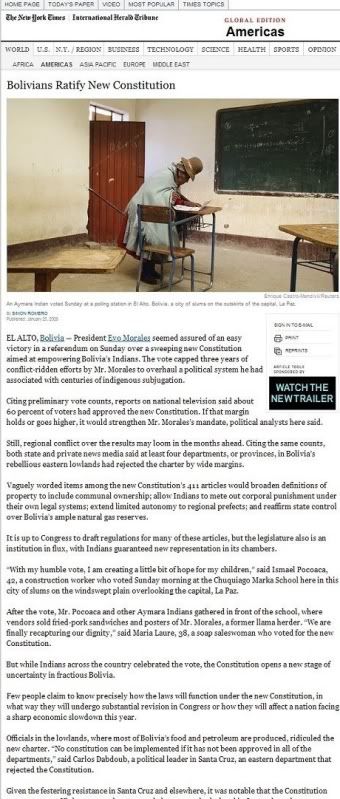 Click to enlarge
Still, regional conflict over the results may loom in the months ahead. Citing the same counts, both state and private news media said at least four departments, or provinces, in Bolivia's rebellious eastern lowlands had rejected the charter by wide margins.
Vaguely worded items among the new Constitution's 411 articles would broaden definitions of property to include communal ownership; allow Indians to mete out corporal punishment under their own legal systems; extend limited autonomy to regional prefects; and reaffirm state control over Bolivia's ample natural gas reserves.
It is up to Congress to draft regulations for many of these articles, but the legislature also is an institution in flux, with Indians guaranteed new representation in its chambers.
[...]
Few people claim to know precisely how the laws will function under the new Constitution, in what way they will undergo substantial revision in Congress or how they will affect a nation facing a sharp economic slowdown this year.
[...]
Other months for judicial CP in Bolivia:
June 2005
November 2006