The Brunei Times, 28 June 2009
Rapist Gets 14-Year Jail, 14 Strokes Of Cane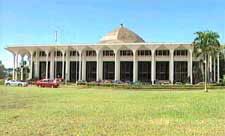 Bandar Seri Begawan High Court
Bandar Seri Begawan - The High Court of Bandar Seri Begawan yesterday sentenced Khairul Hj Dagang to 14 years of imprisonment and 14 strokes of the cane on the charges of rape and several criminal offences. The verdict was pronounced by Judge Dato Paduka Hairolarni bin Majid.
Click to enlarge
The sentence was handed out following a guilty verdict on the charge of raping several women around the Bengkurong/Masin area According to news reports, Khairul Hj Dagang who is in his 40s, 157.48cm in height with long hair and a tattoo in the form of a Chinese character on his arm, was also convicted of escaping from police custody on January 16. The arrest of Khairul Hj Dagang, after escaping from custody, was a major focus for the Royal Brunei Police Force during that time and was considered a high priority which warranted a $10,000 reward for the capture of the man as well as for information leading to his arrest.
However, he was arrested within a week which resulted in the arrest and conviction of an Indonesian woman for harbouring the fugitive. He was sentenced to two months imprisonment for escaping from the police custody following the 14-year sentence.
Country files: Corporal punishment in Brunei
Article: Judicial caning in Brunei, Malaysia & Singapore