Sydney Morning Herald, 26 October 1971
Caned boy sues schoolteacher
'Assault' alleged
A 15-year-old Trinity Grammar School boy yesterday sued a schoolmaster in the District Court, alleging assault.
The boy, Colin James Morris, of Cripps Avenue, Kingsgrove, claimed the master had caned him to an immoderate and excessive extent.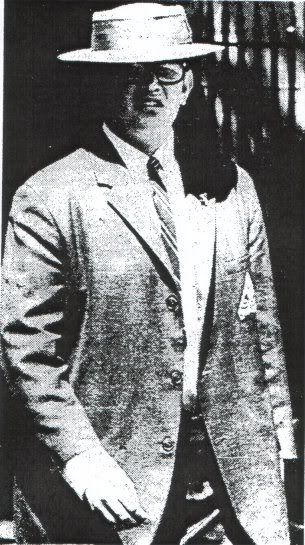 Colin Morris after the hearing.
His father, Mr Edwin Morris, on behalf of his son, sued the master, Mr Albert Gordon Farr, and the council of Trinity Grammar School, for damages.
The boy told Judge Staunton that Mr Farr, a maths master, had caned him after he pushed a smaller boy off a hessian bag on to some concrete in April last.
Under cross-examination by Mr T. Hughes, QC (for Mr Farr), he admitted he had been bullying the smaller boy and that he had deserved the punishment.
He said Mr Farr had told him he would give him three cuts of the cane for the incident.
After the first cut, he had told Mr Farr that he had boils on his buttocks.
Mr Farr had told him to bring a note from his parents next day.
But his mother had refused to write the note as she said he had pimples -- not boils.
Next day, Mr Farr had caned him for the previous day's incident and given him three more cuts for lying.
His buttocks were sore and there was some bruising.
He had shown his father the marks and his father had taken photographs of his buttocks. Next day, his father had taken him to a professional photographer for more pictures.
The photographs were tendered as evidence.
Mr C. Callaway (for Morris) said bruises from the caning had lasted three to four weeks and a doctor had testified that the boy's buttocks would have ached and it would have been painful for him to sit for a week.
"I don't deny that the punishment inflicted was justified but the point is that what was inflicted was immoderate and excessive," Mr Callaway said.
"Just because three cuts of the cane were necessary for each offence, you cannot sanction the degree of assault," he said.
Mr Farr, of Arcadian Circuit, Carlingford, said that the boy had pushed a much smaller boy across the hessian bag on to the concrete. The smaller boy's head had landed a fraction of an inch from a pillar.
Mr Farr said he had told Colin Morris: "That was a very stupid thing to do and that was bullying under school rules. I must cane you."
He said he had given the boy one cut of the cane and five more the next day after he had checked with the parents that the boy did not have boils.
He said the boy's father had said when told about the caning: "You go ahead. I'll give him some more when he gets home."
Mr Farr agreed under cross-examination that he was 16 stone and had to control his strength when administering the cane.
"If a boy breaks the school rules I am bound to inflict corporal punishment," he said.
Judge Staunton reserved his decision.
---
Follow-up: 3 November 1971 - Caning of boy was justified, says judge