LIFE, New York, 12 May 1941
Pictures to the Editors
Candid Caning
Sirs: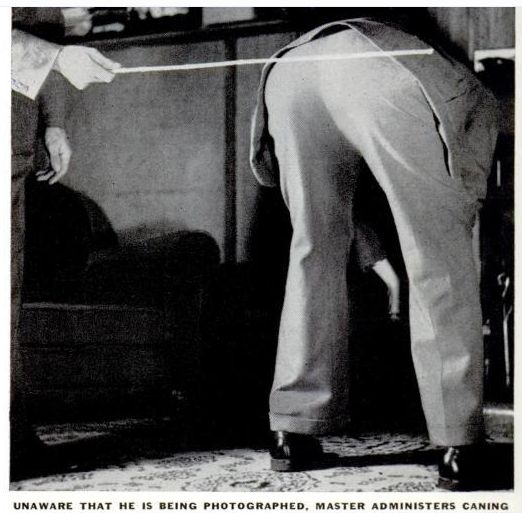 This picture (above) shows an actual caning in one of Australia's leading public schools. The other two pictures reveal the manner in which it was taken.
Click to enlarge
Noticing that there was a small bookcase in one corner of our housemaster's study we replaced one of the books with a similar book into which a miniature camera had been fitted. This was done while the master was at lunch. When he returned, a boy was waiting for him who had broken a window (on purpose) and awaited punishment. As soon as I heard the first stroke of the cane, I opened the shutter, which was fitted with an electric release operated by a Morse buzzer in the room adjoining. I believe this the first unposed picture of a caning ever taken, as the master is absolutely unaware of its existence.
HAWORTH H. BARTRAM
Heidelberg, Australia
---
Note by C.F.: At first sight, this appears most likely to be a hoax. However, indefatigable Antipodean CP researcher Dean Clarke (to whom my thanks as ever) has looked into it, and found there really was a Haworth Bartram of Heidelberg who went on to become a well-known photographer in adulthood, so quite likely to have been messing about with camera tricks while at school. The school is most likely Geelong Grammar School, where housemaster's canings in this manner are known to have been routine; Bartram was aged 19 and had left school for two years by the time he sent this to LIFE magazine, so the date of the picture is probably 1938 or 1939. As Dean says, it seems unlikely he would go so public with this under his real name if it was a fake. People who know about these things say that such a miniature camera would have been available by this time; they were very expensive, but the boy had a rich father. One may also suppose that such a respected photography magazine as LIFE would hardly have published such a thing if they did not think it true. On balance, then, my working assumption is that this probably is what it says it is, which if true would make it a very remarkable document.
Country files: Australian school CP
Other external links: School CP
Archive 1976 to 1995: Australia