The Cairns Post, Queensland, 11 December 1917, p.8
State Schools.
Strap Instead of Cane.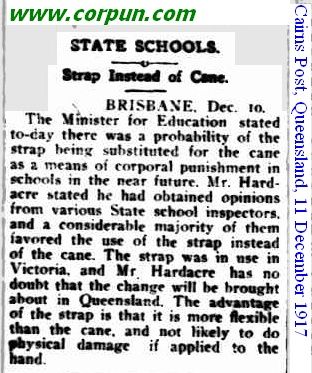 Click to enlarge
BRISBANE, Dec. 10.
The Minister for Education stated to-day there was a probability of the strap being substituted for the cane as a means of corporal punishment in schools in the near future. Mr. Hardacre stated he had obtained opinions from various State school inspectors, and a considerable majority of them favored the use of the strap instead of the cane. The strap was in use in Victoria, and Mr. Hardacre has no doubt that the change will be brought about in Queensland. The advantage of the strap is that it is more flexible than the cane, and not likely to do physical damage if applied to the hand.
Country files: Australian school CP
Other external links: School corporal punishment
Archive up to 1975: CP in Australia