The Barrier Miner, Broken Hill, New South Wales, 14 December 1912, p.5
Caning a Cadet.
The Sydney Grammar School Episode.
Question in the Senate.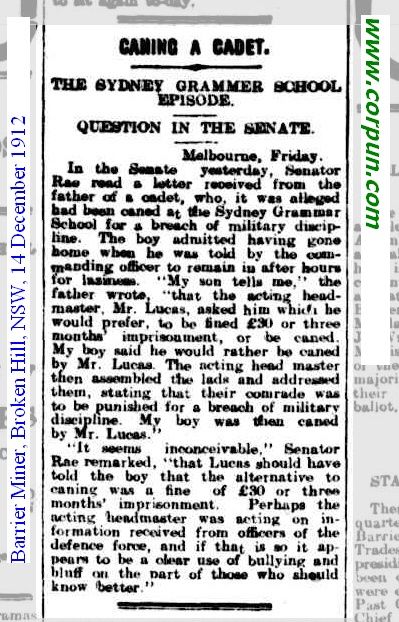 Click to enlarge
Melbourne. Friday.
In the Senate yesterday, Senator Rae read a letter received from the father of a cadet, who, it was alleged had been caned at the Sydney Grammar School for a breach of military discipline. The boy admitted having gone home when he was told by the commanding officer to remain in after hours for laziness. "My son tells me," the father wrote, "that the acting headmaster, Mr. Lucas, asked him which he would prefer, to be fined £30 or three months imprisonment, or be caned. My boy said he would rather be caned by Mr. Lucas. The acting head master then assembled the lads and addressed them, stating that their comrade was to be punished for a breach of military discipline. My boy was then caned by Mr. Lucas."

"It seems inconceivable," Senator Rae remarked, "that Lucas should have told the boy that the alternative to caning was a fine of £30 or three months' imprisonment. Perhaps the acting headmaster was acting on information received from officers of the defence force, and if that is so it appears to be a clear use of bullying and bluff on the part of those who should know better."
Country files: Australian school CP
Other external links: School corporal punishment
Archive up to 1975: CP in Australia