The Register, Adelaide, 13 May 1912, p.3
Caning in School.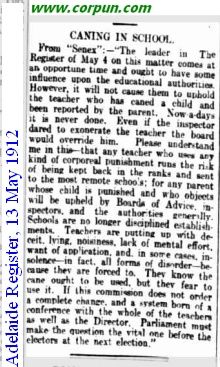 Click to enlarge
From "Senex": -- "The leader in The Register of May 4 on this matter comes at an opportune time and ought to have some influence upon the educational authorities. However, it will not cause them to uphold the teacher who has caned a child and been reported by the parent.
Now-a-days it is never done. Even if the inspector dared to exonerate the teacher the Board would override him. Please understand me in this -- that any teacher who uses any kind of corporeal punishment runs the risk of being kept back in the ranks and sent to the most remote schools; for any parent whose child is punished and who objects will be upheld by Boards of Advice, inspectors, and the authorities generally. Schools are no longer disciplined establishments. Teachers are putting up with deceit, lying, noisiness, lack of mental effort, want of application, and in some cases insolence -- in fact, all forms of disorder -- because they are forced to. They know the cane ought to be used, but they fear to use it. If this commission does not order a complete change, and a system born of a conference with the whole of the teachers as well as the Director, Parliament must make the question the vital one before the electors at the next election."
Country files: Australian school CP
Other external links: School corporal punishment
Archive up to 1975: CP in Australia