Sunday Mail, Brisbane, 29 March 2009
Teachers given cane go-ahead at Bundaberg Christian College
By Ainsley Pavey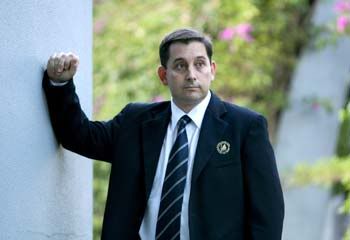 PADDLE principal . . . Bundaberg Christian School head Mark Bensley says punishment is "loving".
THE cane is still being wielded at some Queensland schools where parents sign legal waivers to give teachers the power to hit their children.
The corporal punishment option is offered at some of the state's fastest-growing independent schools as part of their strict behaviour management strategies. Religious beliefs are used to justify discipline at some schools.
With more than 55,000 suspensions handed out at state schools last financial year - a jump of more than 20 per cent in two years - Independent Schools Queensland has reported growing support for private schools catering for the "disengaged and at-risk" school sector.
Bundaberg Christian College principal Mark Bensley said corporal punishment had become a drawcard for some parents because of a "lack of boundaries" at other schools.
"A growing number of parents come to our school and say the school got their attention because it uses the paddle," Mr Bensley said.
"If they choose to not sign it (the waiver), they are not refused enrolment. But a very significant majority of parents sign because they like that we understand the need for boundaries, fairness and consistency."
Click to enlarge
Mr Bensley said the plastic paddle - shaped like a table-tennis bat - was a "last resort" when suspensions, detentions and warnings had failed.
The school, which has 600 students in Prep to Year 12, gave the paddle 10 times last year and seven times in 2007, he said.
"I would never use the paddle unless we have spoken to both parents and have their blessing for it to be used," Mr Bensley said.
"It is always administered in a loving way. In fact, we pray with them afterwards."
Corporal punishment was banned in state schools in 1995 by a decision of Cabinet but was not written into law. Parents, teachers or guardians are allowed to use "reasonable force" in disciplining children.
The 109-year-old law was applied in a case involving a Gold Coast high school teacher last year who was acquitted on an assault charge after he admitted slapping a Year 8 student.
But State Attorney-General Cameron Dick warned that Section 208 of the law that relates to the matter was "by no means a carte blanche authority for teachers to use physical force to manage students".
Colin Krueger, principal of Mueller College at Rothwell on Brisbane's northern outskirts, said the school used the cane at the request of parents.
Parents are asked to sign a consent form as part of enrolment which gives teachers the power to use "firm but fair" discipline "administered in a spirit of love according to Proverbs 13.24, 22:6 and 22:15", which promote the "rod of discipline" to "correct the foolishness raging in every child".
Mr Krueger, principal of the school for 19 years, said using the cane on a child "depended on the circumstances".
"If kids are persistent and we have tried every other avenue, it will be administered if parents request it. We haven't used it for a couple of years," he said.
"I've had many kids come back to me and say 'Thank you for giving me the cane'."
After the interview with Mr Krueger, the school's board of directors contacted The Sunday Mail and said the cane had been banned at the school because of "negative publicity" but declined to say when the decision had been made.
Caloundra Christian College also has a strict disciplinary policy. What the school calls "corporal correction" is followed by a time of "restoration and prayer".
ISQ acting executive director David Robertson said behaviour management policies were a matter for schools.
"Discipline policies are developed by schools in consultation with their parent communities," he said.
Several parents of students at Mueller College told The Sunday Mail they supported the school's discipline policy.
"The school does do a good job. Problems are quickly sorted out," parent Julie Wilden said. "We had it (the cane) when we were kids at school and it never hurt us."
Spokesmen for Catholic Education and Brisbane Anglican Schools said corporal punishment was banned at their schools.
© 2009 Queensland Newspapers.
---
---
Sunshine Coast Daily, Maroochydore, Queensland, 31 March 2009
School's use of cane 'acceptable'
By Anne-Louise Brown
(extract)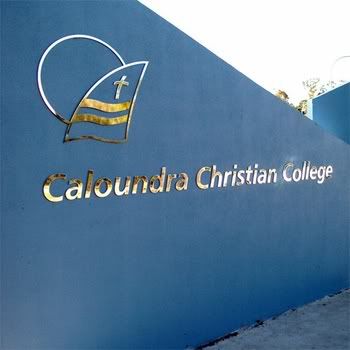 Caloundra Christian College was mentioned in a report about Queensland schools that used corporal punishment.
Using the cane to discipline unruly students was acceptable, but should be a last resort, the former P&C president of a Sunshine Coast school said yesterday.
Andre Berge, a parent of two Caloundra Christian College students, was commenting after the school was mentioned in a report about Queensland schools that used corporal punishment.
The college uses "corporal correction" to discipline pupils, followed by a time of "restoration and prayer".
"The Bible doesn't disallow corporal punishment, but it must be something that's closely controlled," Mr Berge said.
"It would be a last resort, because there are a number of other ways to discipline kids. There would have to be a very valid reason to use corporal punishment.
"I think the threat of it deters children from misbehaving."
Caloundra Christian College declined to comment to the Daily. The school's website states that the college fosters "the atmosphere and qualities of a caring family".
The independent school is one of several across the state using corporal punishment, but is the only Coast school employing such measures.
Click to enlarge
Independent Schools Queensland acting executive director David Robertson said behaviour management policies were school-based.
In 1995, corporal punishment was banned in state schools, but was not written into law.
"Reasonable force" can be used by parents, guardians and teachers to discipline children.
[...]
© APN News & Media Ltd 2009.
---
Follow-up: 30 June 2011 - Schools don't spare rod