The Courier-Mail, Brisbane, 30 June 2011
Schools don't spare rod
By Tanya Chilcott
Schools Reporter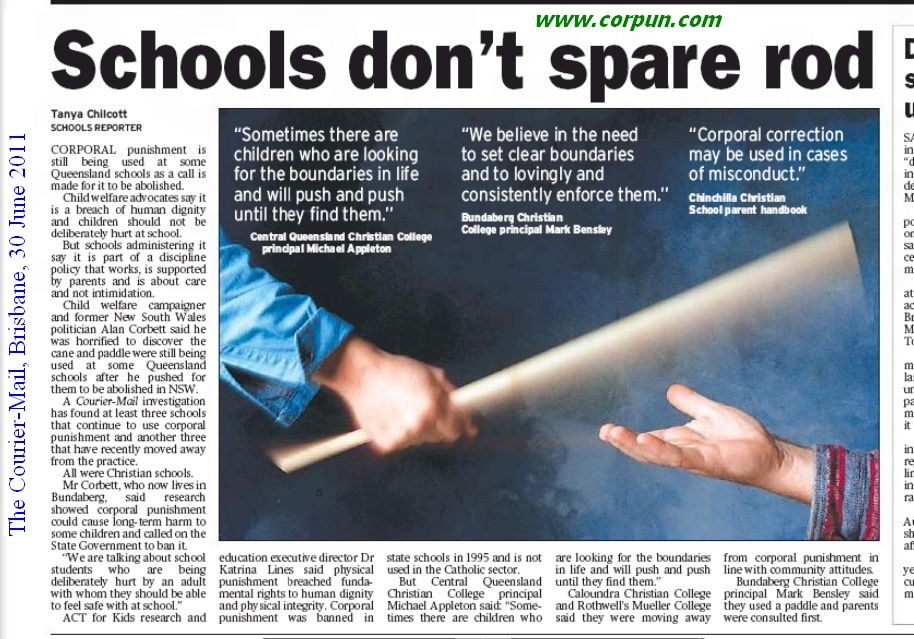 Click to enlarge
CORPORAL punishment is still being used at some Queensland schools as a call is made for it to be abolished.
Child welfare advocates say it is a breach of human dignity and children should not be deliberately hurt at school.
But schools administering it say it is part of a discipline policy that works, is supported by parents and is about care and not intimidation.
Child welfare campaigner and former New South Wales politician Alan Corbett said he was horrified to discover the cane and paddle were still being used at some Queensland schools after he pushed for them to be abolished in NSW.
A Courier-Mail investigation has found at least three schools that continue to use corporal punishment and another three that have only recently moved away from the practice.
All were Christian schools.
Mr Corbett, who now lives in Bundaberg, said research showed corporal punishment could cause long-term harm to some children and called on the State Government to ban it.
"We are talking about school students who are being deliberately hurt by an adult with whom they should be able to feel safe with [sic]at school."
ACT for Kids research and education executive director Dr Katrina Lines said physical punishment breached fundamental rights to human dignity and physical integrity. Corporal punishment was banned in state schools in 1995 and is not used in the Catholic sector.
But Central Queensland Christian College principal Michael Appleton said: "Sometimes there are children who are looking for the boundaries in life and will push and push until they find them."
Caloundra Christian College and Rothwell's Mueller College said they were moving away from corporal punishment in line with community attitudes.
Bundaberg Christian College principal Mark Bensley said they used a paddle and parents were consulted first.
---
Follow-up: 13 July 2013 - BCC's ban on violent punishment of students "too late"