Corpun file 24273 at www.corpun.com
The Advertiser, Adelaide, 28 April 1919, p.7
Caning in the Navy.
Severe chastisement alleged.
Sydney, April 27.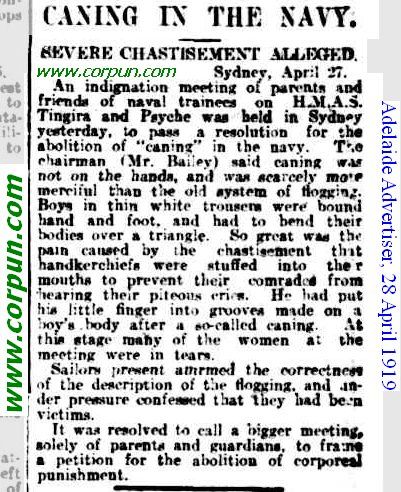 Click to enlarge
An indignation [sic] meeting of parents and friends of naval trainees on H.M.A.S. Tingira and Psyche was held in Sydney yesterday, to pass a resolution for the abolition of "caning" in the navy. The chairman (Mr. Bailey) said caning was not on the hands, and was scarcely more merciful than the old system of flogging. Boys in thin white trousers were bound hand and foot, and had to bend their bodies over a triangle. So great was the pain caused by the chastisement that handkerchiefs were stuffed into their mouths to prevent their comrades from hearing their piteous cries. He had put his little finger into grooves made on a boy's body after a so-called caning. At this stage, many of the women at the meeting were in tears.
Sailors present affirmed the correctness of the description of the flogging, and under pressure confessed that they had been victims.
It was resolved to call a bigger meeting, solely of parents and guardians, to frame a petition for the abolition of corporeal punishment.
---
Follow-up: 5 May 1919 - Caning on the Tingira.
Other external links: Naval corporal punishment
Archive up to 1975: Corporal punishment in Australia