The Age, Melbourne, 18 July 1962
Birching Sentence of Youth Upheld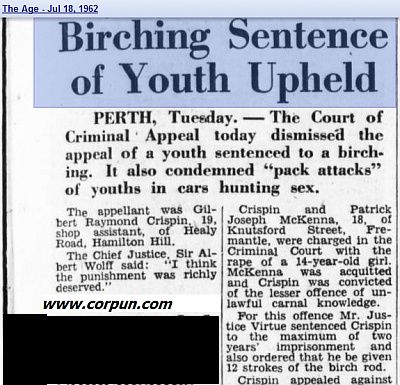 Click to enlarge
PERTH, Tuesday. -- The Court of Criminal Appeal today dismissed the appeal of a youth sentenced to a birching. It also condemned "pack attacks" of youths in cars hunting sex.

The appellant was Gilbert Raymond Crispin, 19, shop assistant, of Healy Road, Hamilton Hill.
The Chief Justice, Sir Albert Wolff said: "I think the punishment was richly deserved."
Crispin and Patrick Joseph McKenna, 18, of Knutsford Street, Fremantle, were charged in the Criminal Court with the rape of a 14-year-old girl. McKenna was acquitted and Crispin was convicted of the lesser offence of unlawful carnal knowledge.
Click to enlarge
For this offence Mr. Justice Virtue sentenced Crispin to the maximum of two years' imprisonment and also ordered that he be given 12 strokes of the birch rod.
Crispin appealed against the length of the prison term, as well as the birching.
Delivering judgment today, Sir Albert Wolff said Crispin had been aware of the age of the girl.
One of the worst features of the case was the pack activity by youths hunting for whatever they could get in the sex line.