The News, Adelaide, 18 September 1961
Boy, 14, to be caned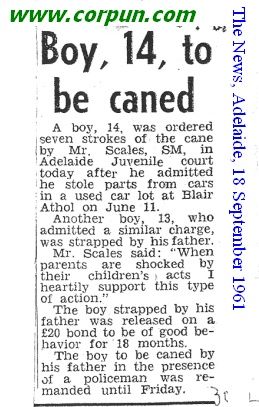 Click to enlarge
A boy, 14, was ordered seven strokes of the cane by Mr. Scales, SM, in Adelaide Juvenile Court today after he admitted he stole parts from cars in a used car lot at Blair Athol on June 11.
Another boy, 13, who admitted a similar charge, was strapped by his father.
Mr. Scales said: "When parents are shocked by their children's acts I heartily support this type of action."
The boy strapped by his father was released on a £20 bond to be of good behaviour for 18 months.
The boy to be caned by his father in the presence of a policeman was remanded until Friday.
Country files: Judicial CP in Australia
Archive up to 1975: Corporal punishment in Australia