The Mercury, Hobart, Tasmania, 17 December 1938
Judge Orders Birching
Robbery Under Arms
MELBOURNE, December 16.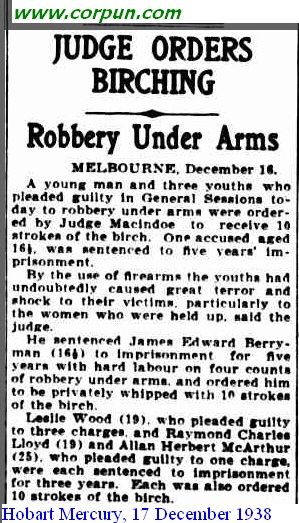 Click to enlarge
A young man and three youths who pleaded guilty in General Sessions to-day to robbery under arms were ordered by Judge MacIndoe to receive 10 strokes of the birch. One accused aged 16½, was sentenced to five years' imprisonment.
By the use of firearms the youths had undoubtedly caused great terror and shock to their victims, particularly to the women who were held up, said the judge.
He sentenced James Edward Berryman (16½) to imprisonment for five years with hard labour on four counts of robbery under arms, and ordered him to be privately whipped with 10 strokes of the birch.
Leslie Wood (19), who pleaded guilty to three charges, and Raymond Charles Lloyd (19) and Allan Herbert McArthur (25), who pleaded guilty to one charge, were each sentenced to imprisonment for three years. Each was also ordered 10 strokes of the birch.
Country files: Judicial CP in Australia
Archive up to 1975: Corporal punishment in Australia