The Mercury, Hobart, Tasmania, 23 April 1936
Whipping For Boys
Offender as Spectator.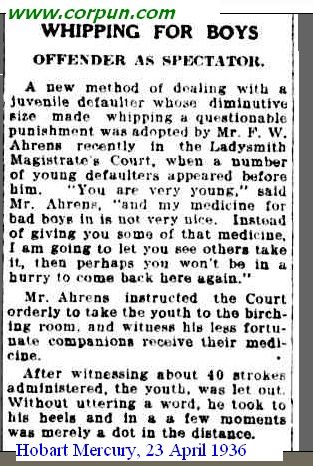 Click to enlarge
A new method of dealing with a juvenile defaulter whose diminutive size made whipping a questionable punishment was adopted by Mr. F.W. Ahrens recently in the Ladysmith [New South Wales] Magistrate's Court, when a number of young defaulters appeared before him. "You are very young," said Mr. Ahrens, "and my medicine for bad boys is not very nice. Instead of giving you some of that medicine, I am going to let you see others take it, then perhaps you won't be in a hurry to come back here again."
Mr. Ahrens instructed the Court orderly to take the youth to the birching room, and witness his less fortunate companions receive their medicine.
After witnessing about 40 strokes administered, the youth was let out. Without uttering a word, he took to his heels and in a few moments was merely a dot in the distance.
Country files: Judicial CP in Australia