The Advertiser, Adelaide, 19 June 1907
A Degrading Punishment.
Boys Whipped by the Hangman.
Melbourne, June 18.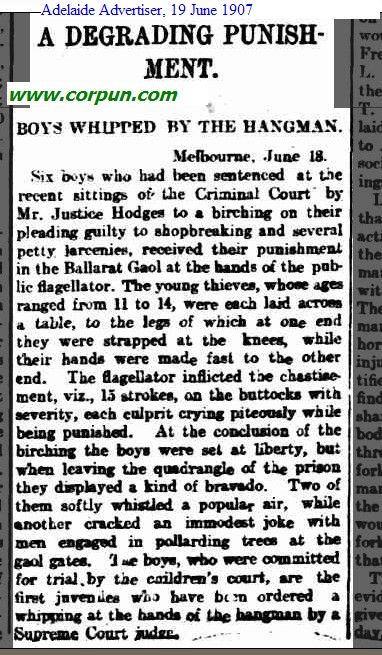 Click to enlarge
Six boys who had been sentenced at the recent sittings of the Criminal Court by Mr. Justice Hodges to a birching on their pleading guilty to shopbreaking and several petty larcenies, received their punishment in the Ballarat Gaol at the hands of the public flagellator. The young thieves,whose ages ranged from 11 to 14, were each laid across a table, to the legs of which at one end they were strapped at the knees, while their hands were made fast to the other end. The flagellator inflicted the chastisement, viz., 15 strokes, on the buttocks with severity, each culprit crying piteously while being punished.
At the conclusion of the birching the boys were set at liberty, but when leaving the quadrangle of the prison they displayed a kind of bravado. Two of them softly whistled a popular air, while another cracked an immodest joke with men engaged in pollarding trees at the gaol gates. The boys, who were committed for trial by the children's court, are the first juveniles who have been ordered a whipping at the hands of the hangman by a Supreme Court judge.
Country files: Judicial CP in Australia