Maitland Mercury and Hunter River General Advertiser, New South Wales, 20 March 1884
A Prisoner Whipped in Maitland Gaol.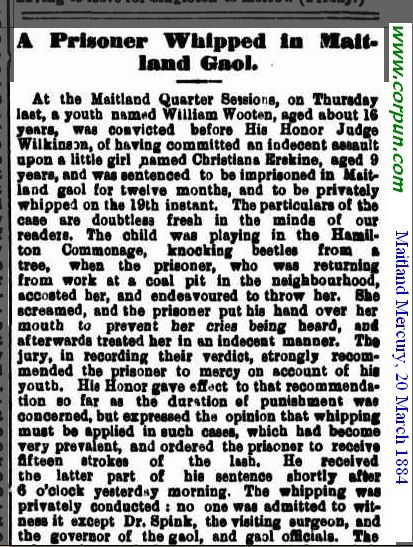 Click to enlarge
At the Maitland Quarter Sessions, on Thursday last, a youth named William Wooten, aged about 16 years, was convicted before His Honor Judge Wilkinson, of having committed an indecent assault upon a little girl named Christiana Erskine, aged 9 years, and was sentenced to be imprisoned in Maitland gaol for twelve months, and to be privately whipped on the 19th instant. The particulars of the case are doubtless fresh in the minds of our readers. The child was playing in the Hamilton Commonage, knocking beetles from a tree, when the prisoner, who was returning from work at a coal pit in the neighbourhood, accosted her, and endeavoured to throw her. She screamed, and the prisoner put his hand over her mouth to prevent her cries being heard, and afterwards treated her in an indecent manner. The jury, in recording their verdict, strongly recommended the prisoner to mercy on account of his youth. His Honor gave effect to that recommendation so far as the duration of punishment was concerned, but expressed the opinion that whipping must be applied in such cases, which had become very prevalent, and ordered the prisoner to receive fifteen strokes of the lash.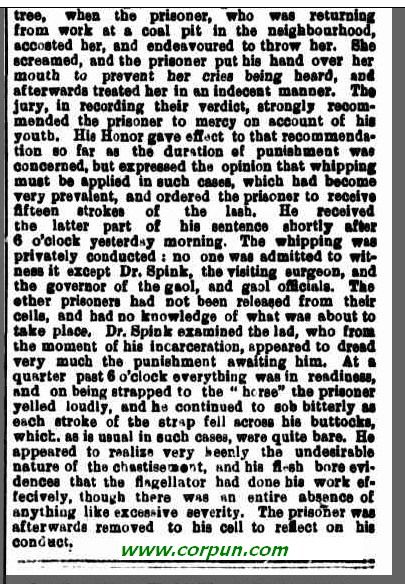 Click to enlarge
He received the latter part of his sentence shortly after 6 o'clock yesterday morning. The whipping was privately conducted: no one was admitted to witness it except Dr. Spink, the visiting surgeon, and the governor of the gaol, and gaol officials. The other prisoners had not been released from their cells, and had no knowledge of what was about to take place. Dr. Spink examined the lad, who from the moment of his incarceration, appeared to dread very much the punishment awaiting him. At a quarter past 6 o'clock everything was in readiness, and on being strapped to the "horse" the prisoner yelled loudly, and he continued to sob bitterly as each stroke of the strap fell across his buttocks, which, as is usual in such cases, were quite bare. He appeared to realize very keenly the undesirable nature of the chastisement, and his flesh bore evidences that the flagellator had done his work effectively, though there was an entire absence of anything like excessive severity. The prisoner was afterwards removed to his cell to reflect on his conduct.
Country files: Judicial CP in Australia