Cairns Post, Queensland, 29 June 1942, p.3
Melbourne Girls
Spanked by U.S. Police.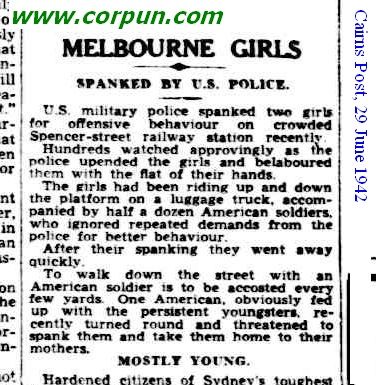 Click to enlarge
U.S. military police spanked two girls for offensive behaviour on crowded Spencer-street railway station recently.
Hundreds watched approvingly as the police upended the girls and belaboured them with the flat of their hands.
The girls had been riding up and down the platform on a luggage truck, accompanied by half a dozen American soldiers, who ignored repeated demands from the police for better behaviour.
After their spanking they went away quickly.
To walk down the street with an American soldier is to be accosted every few yards. One American, obviously fed up with the persistent youngsters, recently turned round and threatened to spank them and take them home to their mothers.
Country files: CP in Australia