NewsDay, Harare, 10 February 2012
Gang gets 20 years for raiding Econet base stations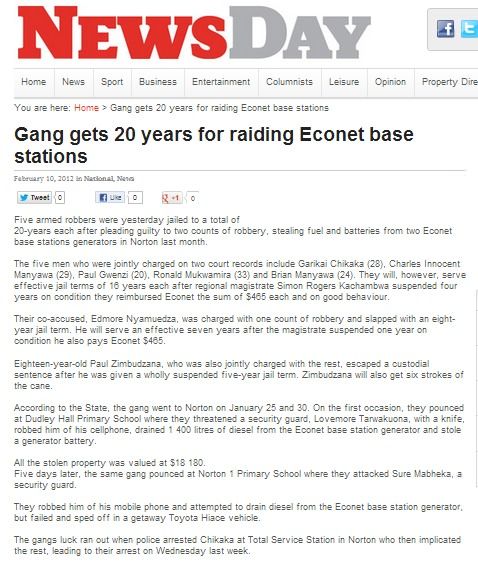 Click to enlarge
Five armed robbers were yesterday jailed to a total of 20 years each after pleading guilty to two counts of robbery, stealing fuel and batteries from two Econet base stations generators in Norton last month.
The five men who were jointly charged on two court records include Garikai Chikaka (28), Charles Innocent Manyawa (29), Paul Gwenzi (20), Ronald Mukwamira (33) and Brian Manyawa (24). They will, however, serve effective jail terms of 16 years each after regional magistrate Simon Rogers Kachambwa suspended four years on condition they reimbursed Econet the sum of $465 each and on good behaviour.
Their co-accused, Edmore Nyamuedza, was charged with one count of robbery and slapped with an eight-year jail term. He will serve an effective seven years after the magistrate suspended one year on condition he also pays Econet $465.
Eighteen-year-old Paul Zimbudzana, who was also jointly charged with the rest, escaped a custodial sentence after he was given a wholly suspended five-year jail term. Zimbudzana will also get six strokes of the cane.
According to the State, the gang went to Norton on January 25 and 30. On the first occasion, they pounced at Dudley Hall Primary School where they threatened a security guard, Lovemore Tarwakuona, with a knife, robbed him of his cellphone, drained 1 400 litres of diesel from the Econet base station generator and stole a generator battery.
All the stolen property was valued at $18 180. Five days later, the same gang pounced at Norton 1 Primary School where they attacked Sure Mabheka, a security guard.
They robbed him of his mobile phone and attempted to drain diesel from the Econet base station generator, but failed and sped off in a getaway Toyota Hiace vehicle.
The gang's luck ran out when police arrested Chikaka at Total Service Station in Norton who then implicated the rest, leading to their arrest on Wednesday last week.
© 2012 NewsDay Zimbabwe. All Rights Reserved.
---
---
radiovop.com (Radio VOP), Harare, 17 February 2012
Face Book Betrays Rural Boy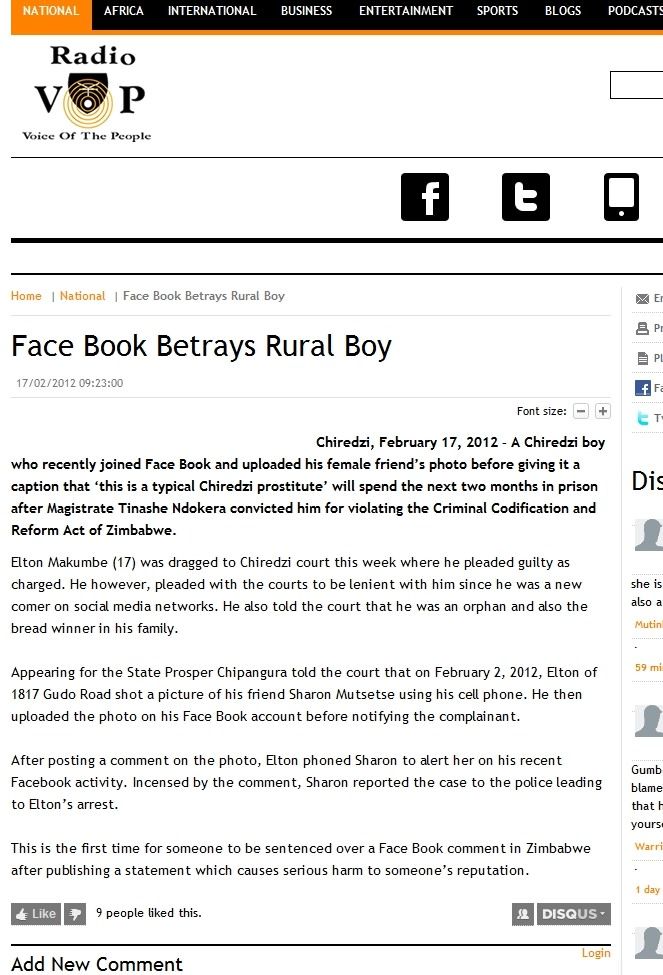 Click to enlarge
Chiredzi, February 17, 2012 -- A Chiredzi boy who recently joined Face Book and uploaded his female friend's photo before giving it a caption that 'this is a typical Chiredzi prostitute' will spend the next two months in prison after Magistrate Tinashe Ndokera convicted him for violating the Criminal Codification and Reform Act of Zimbabwe.
Elton Makumbe (17) was dragged to Chiredzi court this week where he pleaded guilty as charged. He however, pleaded with the courts to be lenient with him since he was a new comer on social media networks. He also told the court that he was an orphan and also the bread winner in his family.
Appearing for the State Prosper Chipangura told the court that on February 2, 2012, Elton of 1817 Gudo Road shot a picture of his friend Sharon Mutsetse using his cell phone. He then uploaded the photo on his Face Book account before notifying the complainant.
After posting a comment on the photo, Elton phoned Sharon to alert her on his recent Facebook activity. Incensed by the comment, Sharon reported the case to the police leading to Elton's arrest.
This is the first time for someone to be sentenced over a Face Book comment in Zimbabwe after publishing a statement which causes serious harm to someone's reputation.
---
Note by C.F.: Radio VOP got the sentence wrong (see further reports below), but seems to have been the only media outlet to name the boy and the woman in the case.
---
Mail & Guardian, Johannesburg, S. Africa, 20 February 2012
Teenager to be caned for Facebook insult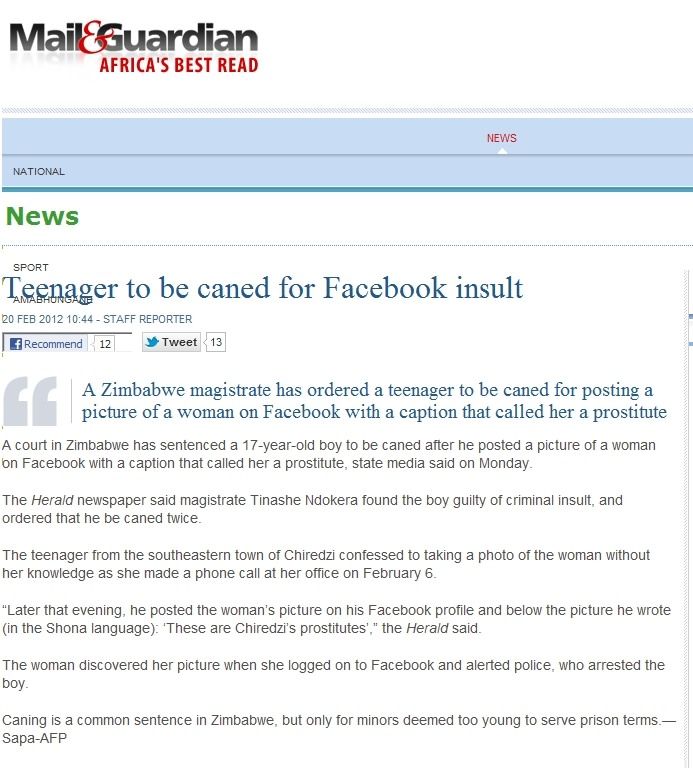 Click to enlarge

HARARE, ZIMBABWE -- A court in Zimbabwe has sentenced a 17-year-old boy to be caned after he posted a picture of a woman on Facebook with a caption that called her a prostitute, state media said on Monday.

The Herald newspaper said magistrate Tinashe Ndokera found the boy guilty of criminal insult, and ordered that he be caned twice.

The teenager from the southeastern town of Chiredzi confessed to taking a photo of the woman without her knowledge as she made a phone call at her office on February 6.

"Later that evening, he posted the woman's picture on his Facebook profile and below the picture he wrote (in the Shona language): 'These are Chiredzi's prostitutes'," the Herald said.

The woman discovered her picture when she logged on to Facebook and alerted police, who arrested the boy.

Caning is a common sentence in Zimbabwe, but only for minors deemed too young to serve prison terms. -- Sapa-AFP

---
Daily Mail, London, 20 February 2012
Boy, 17, becomes first to be CANED for calling a woman a prostitute on Facebook
Teenager secretly photographed a woman at her office and posted it online
By Emily Allen

Click to enlarge
A teenager will be beaten with two strokes of a cane for calling a woman a prostitute on Facebook, a court has ruled.
The 17-year-old, from Zimbabwe, is believed to be the first in the southern African nation to be punished for making such a comment on the site.
The boy, from the rural town of Chiredzi, admitted using his mobile phone to photograph a woman talking on the phone at her office without her knowledge.
The boy admitted using his mobile phone to photograph a woman talking on the phone without her knowledge before posting it on Facebook
He then posted the photo online with a caption saying she was 'a typical Chiredzi prostitute', in the local Shona language, on February 6.
The woman saw the photo as the pair were friends on Facebook and called police, who arrested the boy. His Facebook page has now been removed.
In mitigation, the boy told the judge he was not familiar with the social networking site, was an orphan and the main source of income for his family, RadioVop Zimbabwe said.
However, magistrate Tinashe Ndokera found the boy guilty of 'criminal assault'. He ordered him to be caned twice.
Corporal punishment is still legal in Zimbabwe for boys under the age of 18.
It is also used as a discipline measure in homes and schools as well as in the penal system.
Article 353 of the Criminal Procedure and Evidence Act says 'moderate corporate punishment' maybe used but 'not exceeding six strokes' and it must be 'inflicted in private in a manner and place and by a person prescribed by the court'.
The boy must also be certified by a doctor as fit to receive the punishment and his parent or guardian is entitled to be present.
© Associated Newspapers Ltd