Savali News, Apia, 8 August 2012
Caning considered as students clash at Savalalo
By Tupuola Terry Tavita
Prime Minister Tuilaepa Sailele Malielegaoi (above) said he is seriously considering the reintroduction of corporal punishment following a brawl between Avele and St Joseph's colleges yesterday.
The clash -- involving a number of students scrapping and throwing rocks and bottles -- took place at the bus depot behind the flea market at around 2.30 in the afternoon. Several cars were damaged as Police and firemen struggled to control the melee.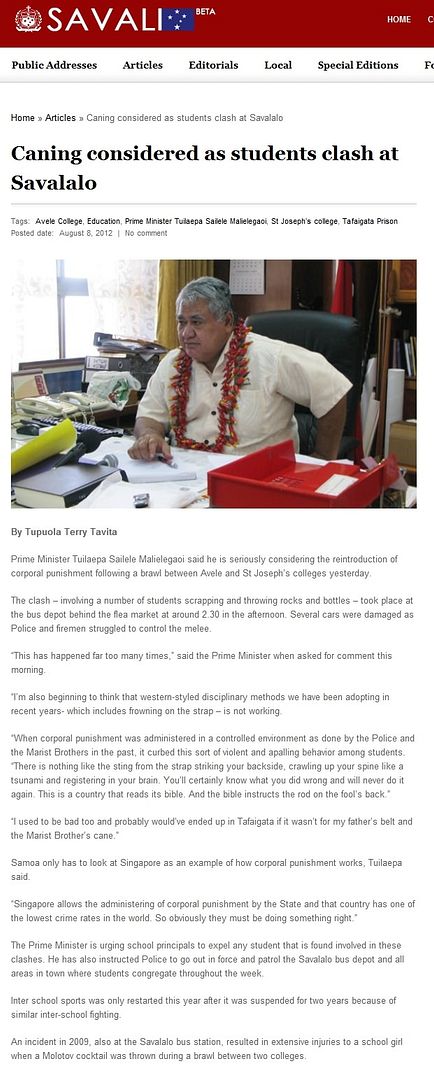 Click to enlarge
"This has happened far too many times," said the Prime Minister when asked for comment this morning.
"I'm also beginning to think that western-styled disciplinary methods we have been adopting in recent years- which includes frowning on the strap -- is [sic] not working.
"When corporal punishment was administered in a controlled environment as done by the Police and the Marist Brothers in the past, it curbed this sort of violent and appalling behavior among students.
"There is nothing like the sting from the strap striking your backside, crawling up your spine like a tsunami and registering in your brain. You'll certainly know what you did wrong and will never do it again. This is a country that reads its bible. And the bible instructs the rod on the fool's back."
"I used to be bad too and probably would've ended up in Tafaigata if it wasn't for my father's belt and the Marist Brother's cane.
Samoa only has to look at Singapore as an example of how corporal punishment works, Tuilaepa said.
"Singapore allows the administering of corporal punishment by the State and that country has one of the lowest crime rates in the world. So obviously they must be doing something right."
The Prime Minister is urging school principals to expel any student that is found involved in these clashes. He has also instructed Police to go out in force and patrol the Savalalo bus depot and all areas in town where students congregate throughout the week.
Inter school sports was only restarted this year after it was suspended for two years because of similar inter-school fighting.
An incident in 2009, also at the Savalalo bus station, resulted in extensive injuries to a school girl when a Molotov cocktail was thrown during a brawl between two colleges.
© 2010 Savali. All Rights Reserved.