The Straits Times, Singapore, 1 August 2012, p.38
Jail, six strokes of cane for assault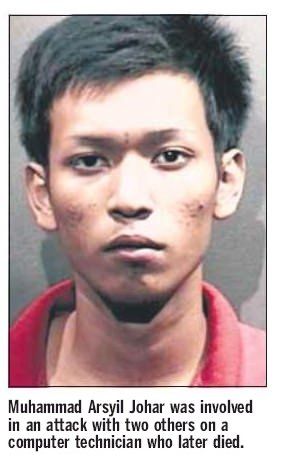 A 21-YEAR-OLD was yesterday jailed four years and ordered to be given six strokes of the cane for assaulting a computer technician who subsequently died.
Muhammad Arsyil Johar was with two others in the attack on Mr Syed Ali Abdullah Alhamid, 25, at Bras Basah Complex early on April 15 last year.
In addition to the jail time and caning for causing grievous hurt, he was dealt another month of imprisonment for the attempted theft of Mr Syed Ali's wallet.
Muhammad Arsyil pleaded guilty to both charges last month.
A district court had heard then that he was at Soul, a club at Odeon Towers in North Bridge Road, with his friends Nur Iksan Abdul Wahid, 24, and Muhammad Nazrul Ali, 22.
The trio were then full-time national servicemen.
Mr Syed Ali was also there, and at 3am, as the club was closing, he was with Nur Iksan on the ground floor of Bras Basah Complex.
Muhammad Arsyil and Muhammad Nazrul Ali joined them and quizzed Mr Syed Ali about his gang connections.
Nur Iksan allegedly threw a punch to his face. Mr Syed Ali fell backwards, hitting his head. He was out cold but Muhammad Arsyil rained punches and kicks on him. His friends allegedly took part in the attack as well.
Muhammad Arsyil searched his pockets for a wallet but found none; Mr Syed Ali was carrying $20 in a plastic holder, which they missed. Nur Iksan is alleged to have taken the victim's cellphone.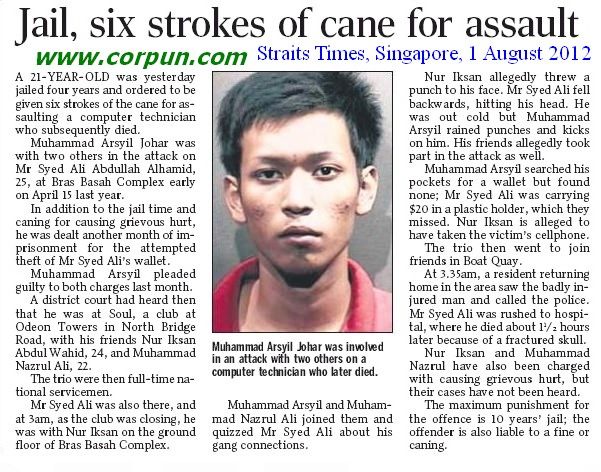 Click to enlarge
The trio then went to join friends in Boat Quay.
At 3.35am, a resident returning home in the area saw the badly injured man and called the police. Mr Syed Ali was rushed to hospital, where he died about 1½ hours later because of a fractured skull.
Nur Iksan and Muhammad Nazrul have also been charged with causing grievous hurt, but their cases have not been heard.
The maximum punishment for the offence is 10 years' jail; the offender is also liable to a fine or caning.
---
---

The Straits Times, Singapore, 11 August 2012, p.81
Jail, 13 strokes for serial lift molester
Technician struck in Yishun and Sembawang
By Elena Chong
TECHNICIAN Mohamed Shah Abu Bakar drank with friends to work up the courage to follow women into lifts and to expose himself and molest them.
In three incidents in Yishun and Sembawang in February, the victims of the 39-year-old were either returning home late at night, or heading to school in the morning.
Shah, who was sentenced to 7½ years' jail and 13 strokes of the cane yesterday, struck twice on Feb 11.
At about 6.50 am, he followed a 20-year-old student into a lift.
As it was going up, he unzipped his trousers and performed an obscene act. Subsequently, he squeezed the victim's breast. She tried to dash out as the lift stopped at her floor, but he grabbed her hand and pushed her, causing her to fall.
Shah pulled her towards a wall. When she tried to shout, he covered her mouth and molested her.
About two hours later, he followed a 13-year-old student into a lift. When he asked if she was at primary or secondary school, she told him she was at secondary. He then reached out with his right hand to touch her breast.
She was shocked and immediately shied away, squatting down. Shah walked out of the lift, but the girl dared not step out and did so only when it reached the 16th floor. She came out and saw him walking down a staircase.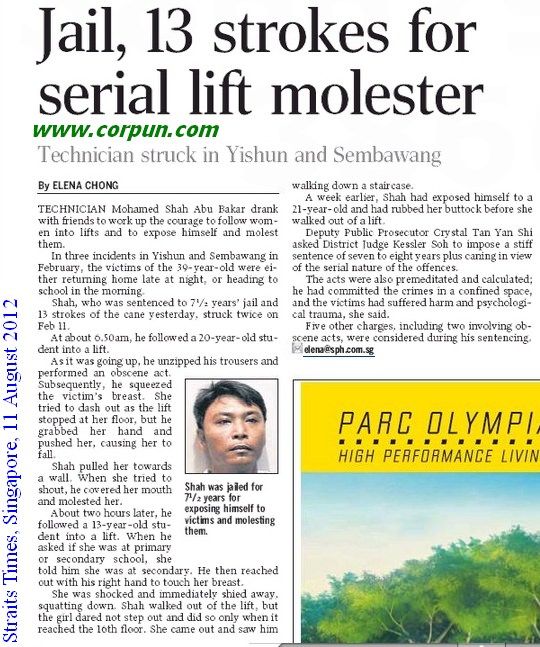 Click to enlarge
A week earlier, Shah had exposed himself to a 21-year-old and rubbed her buttock before she walked out of a lift.
Deputy Public Prosecutor Crystal Tan Yan Shi asked District Judge Kessler Soh to impose a stiff sentence of seven to eight years plus caning in view of the serial nature of the offences.
The acts were also premeditated and calculated; he had committed the crimes in a confined space, and the victims had suffered harm and psychological trauma, she said.
Five other charges, including two involving obscene acts, were considered during his sentencing.
---
---

The Straits Times, Singapore, 11 August 2012, p.A2
Robbers beat up victims viciously
Two left unconscious in some of the worst cases of robbery judge has seen
By Elena Chong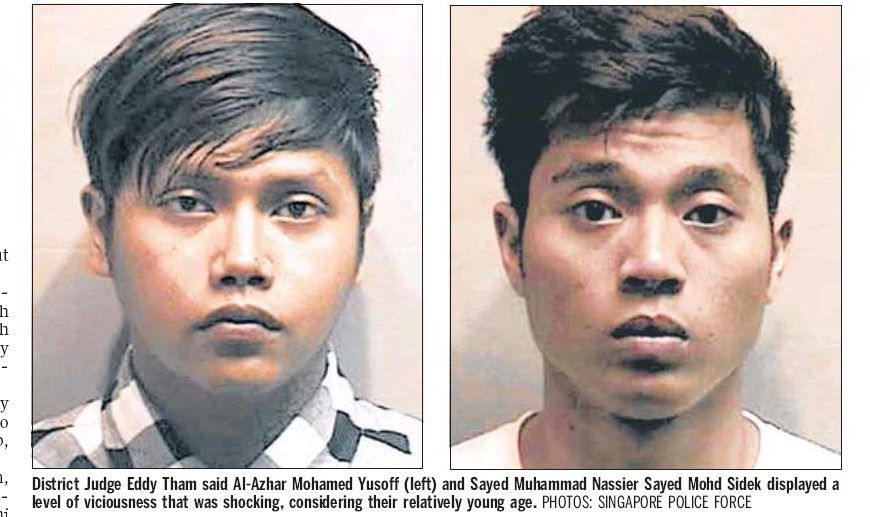 TWO young robbers not only kicked and punched their victims, but also stepped on their faces, causing multiple fractures.
Their brutal assaults left two victims unconscious. One ended up with a facial deformity, while the other had a broken rib.
The pair -- cook Al-Azhar Mohamed Yusoff, 20, and bartender Sayed Muhammad Nassier Sayed Mohd Sidek, 21 -- also robbed and attacked four other victims.
District Judge Eddy Tham, given photos of the victims, said they were "painful to behold". He noted yesterday that these were some of the worst cases of robbery he had come across.
The duo were both given the maximum 24 strokes of the cane.
In addition, Al-Azhar was jailed for seven years and two months, while Nassier, who faced enhanced punishment for drug taking, was jailed for 8½ years.
Both had earlier admitted to three charges of robbery with hurt, and one each of cheating and drug consumption.
Judge Tham said they displayed a level of viciousness that was shocking, considering their relatively young age.
They were "relentless in their assaults" and were not merely satisfied with a single blow. They targeted lone males and gave them no chance to accede to their demands.
The judge said it was truly disappointing that both had just gone through reformative training, but without amending their ways.
Click to enlarge
Deputy Public Prosecutor Krystle Chiang said Al-Azhar, with past convictions for robbery with hurt, had told Nassier previously of his experience in robbing people.
Al-Azhar suggested that they walk around to look for men who were alone to beat up and rob, and Nassier agreed.
On May 15, at about 5.15am, they were walking on Nicoll Highway when they saw Bangladeshi construction worker Sudip Chandro Bhandro Joy cycling alone.
When the 36-year-old came closer, they punched his face, causing him to be thrown off the bicycle. They kept punching and kicking his face and body.
Nassier also stepped on the victim's face twice. They then robbed the unconscious man of his wallet and phone.
About five minutes later, they spotted Indian national Suresh Muniraj, 25, jogging towards them. Suddenly, without warning, the construction worker was punched on his head and face.
He fell on the grass verge, and the duo continued attacking him. They took his wallet, $50 and a $23 phone.
DPP Chiang had said earlier on May 8 that they robbed Chinese national Ke Lin, 27, of his sling bag, $60 and cellphone at a void deck at Block 240, Pasir Ris Street 21.
Al-Azhar had pretended to ask the factory operator for directions, and then punched his face. Nassier joined in the assault.
When the victim fell on the floor, they stepped on his face and body, rendering him unconscious.
In the cheating case, the duo, together with Muhammad Muneer Haja Moideen, 29, used the identity of a 19-year-old robbery victim to apply for a mobile phone contract with StarHub.
After they got an $856 iPhone, they sold it for $770 in Geylang.
Muneer, a chef, has been charged, and his case is fixed for mention on Monday.
---
---

The Straits Times, Singapore, 28 August 2012, p.29
Jail for robber seeking reformative training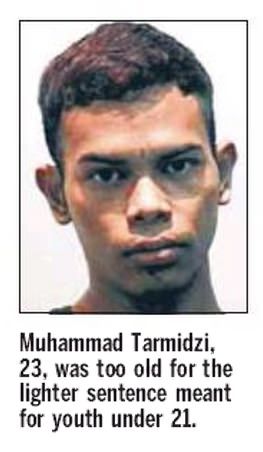 By Khushwant Singh
A 23-YEAR-OLD convicted robber's plea to be sentenced to reformative training was denied yesterday because he was too old.
Muhammad Tarmidzi Tahir, who has been to reformative training twice, told the judge through his lawyer that he was confident he could turn over a new leaf this time.
But District Judge Roy Neighbour said he no longer qualified for the lighter sentence reserved for youth under 21 years old, and handed down a sentence of 6½ years in jail and 24 strokes of the cane.
Court documents showed Muhammad Tarmidzi was a recalcitrant robber who was often violent with his victims -- even after two stints of reformatory training in 2005 and 2008.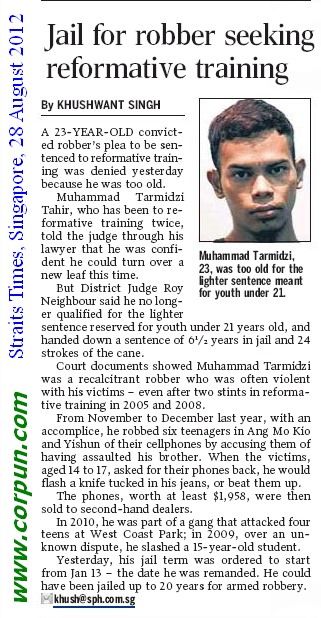 Click to enlarge
From November to December last year, with an accomplice, he robbed six teenagers in Ang Mo Kio and Yishun of their cellphones by accusing them of assaulting his brother. When the victims, aged 14 to 17, asked for their phones back, he would flash a knife tucked in his jeans, or beat them up.
The phones, worth at least $1,958, were then sold to second-hand dealers.
In 2010, he was part of a gang that attacked four teens at West Coast Park; in 2009, over an unknown dispute, he slashed a 15-year-old student.
Yesterday, his jail term was ordered to start from Jan 13 -- the date he was remanded. He could have been jailed for up to 20 years for armed robbery.
---
---

The Straits Times, Singapore, 29 August 2012, p.B8
Sexual predator gets 18 years' jail, caning
Cleaner sexually assaulted 7 boys, aged 11 to 13, after luring them with food and gifts
By Elena Chong
Court correspondent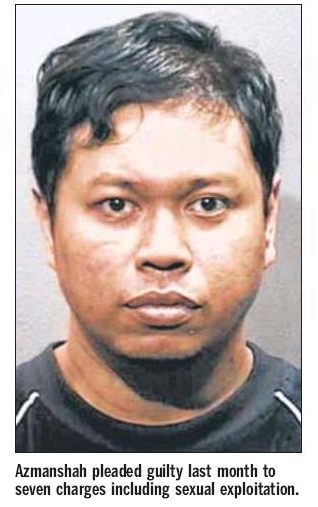 A CLEANER befriended seven young boys, lured them with food and gifts, and then sexually assaulted them at various locations.
For his crimes between 2010 and June last year, Azmanshah Zailamshah was yesterday sentenced to 18 years' jail and 15 strokes of the cane.
The 38-year-old pleaded guilty last month to a total of seven charges, including sexually abusing minors, sexual exploitation and other indecent acts.
All his victims were between 11 and 13 years old.
Deputy Public Prosecutor Fu Qijing told the court that one of the victims, an 11-year-old, met Azmanshah at the Tiong Bahru Plaza arcade game centre during the June school vacation last year. Azmanshah often treated the victim and his friends to the games there.
On June 11 last year, he met the victim at the arcade and bought him food and drinks.
He then told the boy to follow him to the carpark at basement 2.
At the staircase landing, DPP Fu said Azmanshah told the victim to remove his shirt and shorts and then he took off his own shirt.
Azmanshah then slid his hand down the victim's groin and sexually abused him.
Full-time national serviceman Chong Tian Jie, 23, a police sergeant at the time, who was patrolling the area with his partner, saw the pair topless and called out to his partner for assistance.
Azmanshah then suddenly charged at him and punched him several times in the face. The NSF fell and suffered a cut above his left eyebrow. His left eye and cheeks were also swollen. Azmanshah was later arrested. As for his other victims, DPP Fu said that Azmanshah had bought them gifts such as bicycles and mobile phones.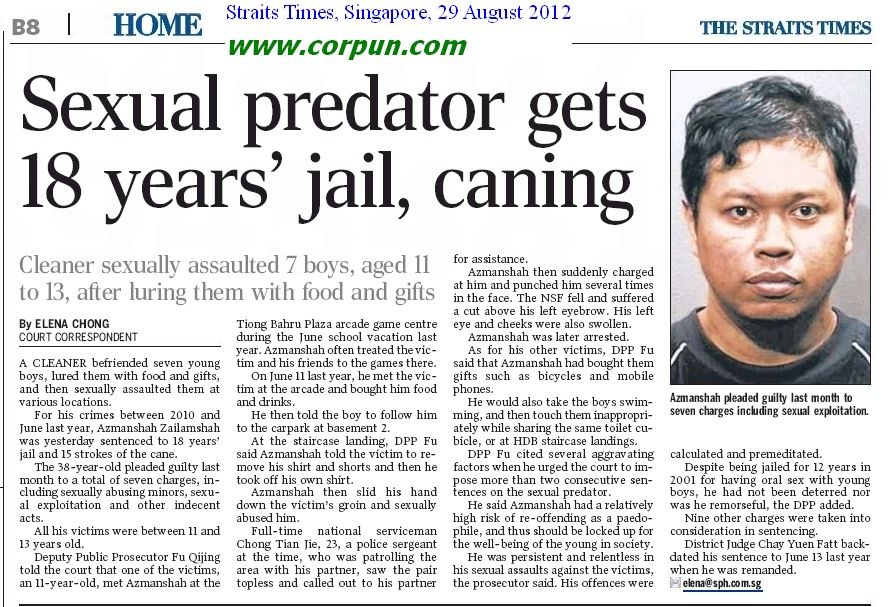 Click to enlarge
He would also take the boys swimming, and then touch them inappropriately while sharing the same toilet cubicle, or at HDB staircase landings.
DPP Fu cited several aggravating factors when he urged the court to impose more than two consecutive sentences on the sexual predator.
He said Azmanshah had a relatively high risk of re-offending as a paedophile, and thus should be locked up for the well-being of the young in society.
He was persistent and relentless in his sexual assaults against the victims, the prosecutor said. His offences were calculated and premeditated.
Despite being jailed for 12 years in 2001 for having oral sex with young boys, he had not been deterred nor was he remorseful, the DPP added.
Nine other charges were taken into consideration in sentencing.
District Judge Chay Yuen Fatt backdated his sentence to June 13 last year when he was remanded.