The Straits Times, Singapore, 28 June 2012, p.B8
Man jailed over fatal robbery
Ex-property agent who targeted drunks given 11 years and caning
By Elena Chong
Court Correspondent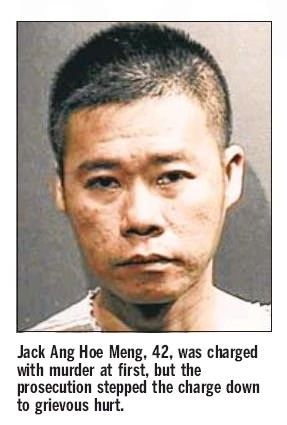 A FORMER property agent who cruised the streets looking for drunks to steal from was yesterday sentenced to 11 years' jail and eight strokes of the cane.
Jack Ang Hoe Meng, 42, beat up a Japanese graduate student so badly that the man later died.
Mr Takanori Inada, 30, who was in a drunken stupor, died from a ruptured liver following a scuffle with Ang in a Bukit Pasoh back lane in 2010.
Ang had been charged with murder at first, but the prosecution stepped the charge down to grievous hurt, of which he was found guilty.
He was also convicted of driving while disqualified from doing so, and will serve a 20-year driving ban for this.
The court heard that Ang, driving his wife's car, would prey on drunks near the pubs in Chinatown, Tanjong Pagar, Neil Road and Keong Saik Road.
Early on Oct 23, 2010, he chanced upon Mr Inada, who was studying for a Master of Business Administration in Singapore, lying on a kerb in Tanjong Pagar.
He approached the Japanese man, who was drunk, offered him a hot drink and drove him to a Bukit Pasoh back lane.
Unable to get a response from Mr Inada as to where he wanted to go, Ang decided to let him alight on New Bridge Road, but the pair got into an argument after Mr Inada took Ang's phone by mistake. A fight ensued. Each time Mr Inada fell, he got up and lunged at Ang.
After a while, Ang got into his car to leave.
Mr Inada yanked open the car door as the vehicle was being reversed and was hit by the door.
Ang left the scene, but later returned on foot to check on Mr Inada.
Seeing that Mr Inada was bleeding, he called for an ambulance.
The phone Ang was using had been stolen from another of his four victims, assistant manager Nah Thong Lee, 32.
Ang admitted to stealing $4,545 in cash and property from Mr Nah a week earlier.

Click to enlarge
On that occasion, Mr Nah had left Club NaNa in Central Mall while he was in a drunken state.
Yesterday, District Judge Siva Shanmugam, noting the aggravating factors in the grievous hurt offence, said Ang had taken advantage of a vulnerable, defenceless victim and dealt him injuries that eventually killed him.
Of the thefts Ang committed, he noted Ang's record of property crimes.
Deputy Public Prosecutor Sarah Lam asked the court to impose preventive detention on Ang.
However, the judge said that Ang's risk of reoffending was moderate at most, and that he did not have a history of violent behaviour.
A jail term would therefore be enough, but it must be severe enough to deter him and to reflect the grave nature of his offences, said the judge.