Hawkes Bay News, 7 May 2012
Mystery over school's whacking good book
By Roger Moroney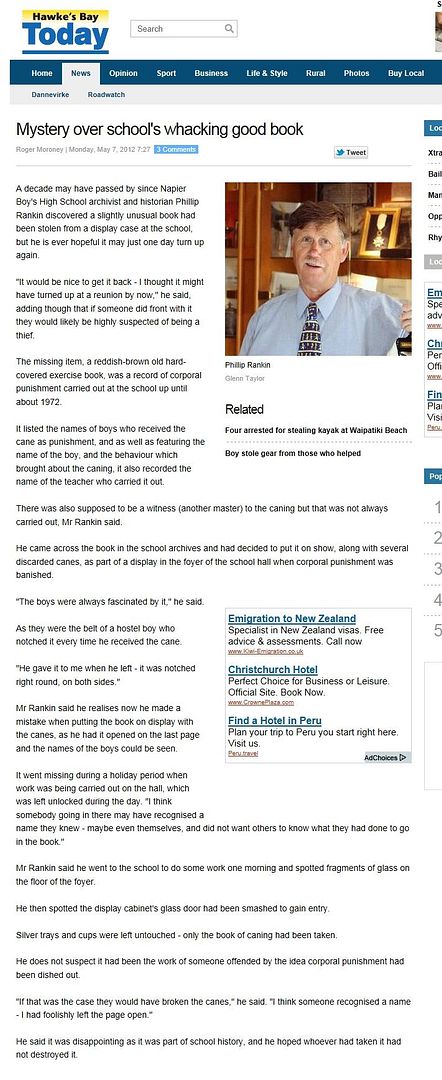 Click to enlarge
A decade may have passed by since Napier Boy's High School archivist and historian Phillip Rankin discovered a slightly unusual book had been stolen from a display case at the school, but he is ever hopeful it may just one day turn up again.

"It would be nice to get it back - I thought it might have turned up at a reunion by now," he said, adding though that if someone did front with it they would likely be highly suspected of being a thief.

The missing item, a reddish-brown old hard-covered exercise book, was a record of corporal punishment carried out at the school up until about 1972.

It listed the names of boys who received the cane as punishment, and as well as featuring the name of the boy, and the behaviour which brought about the caning, it also recorded the name of the teacher who carried it out.

There was also supposed to be a witness (another master) to the caning but that was not always carried out, Mr Rankin said.

He came across the book in the school archives and had decided to put it on show, along with several discarded canes, as part of a display in the foyer of the school hall when corporal punishment was banished.

"The boys were always fascinated by it," he said.

As they were the belt of a hostel boy who notched it every time he received the cane.

"He gave it to me when he left - it was notched right round, on both sides."

Mr Rankin said he realises now he made a mistake when putting the book on display with the canes, as he had it opened on the last page and the names of the boys could be seen.

It went missing during a holiday period when work was being carried out on the hall, which was left unlocked during the day. "I think somebody going in there may have recognised a name they knew - maybe even themselves, and did not want others to know what they had done to go in the book."

Mr Rankin said he went to the school to do some work one morning and spotted fragments of glass on the floor of the foyer.

He then spotted the display cabinet's glass door had been smashed to gain entry.

Silver trays and cups were left untouched - only the book of caning had been taken.

He does not suspect it had been the work of someone offended by the idea corporal punishment had been dished out.

"If that was the case they would have broken the canes," he said. "I think someone recognised a name - I had foolishly left the page open."

He said it was disappointing as it was part of school history, and he hoped whoever had taken it had not destroyed it.
Copyright 2012, APN Holdings NZ Limited
Other external links: School corporal punishment in NZ